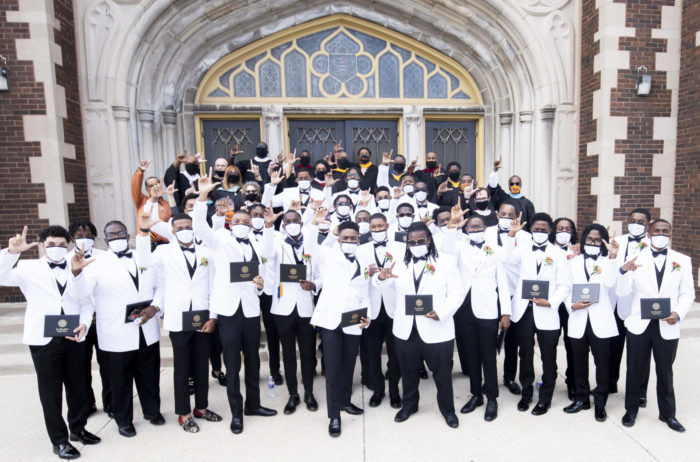 By Danielle Sanders, The Chicago Defender
Leo High School principal, Shaka Rawls, is passionate about his students and community. Facta Non-Verba which, translates to "Deeds not Words," isn't just a phrase used at Leo High School. It is put into practice by the teachers and administration who consistently put their children and education first. Despite the Archdiocese Office of Catholic Schools reopening guidelines that encourage more in-class learning, Shaka Rawls quickly felt the need to do something different that addressed LEO High School's student population and community specifically.
[media-credit id="1″ align="right" width="178″]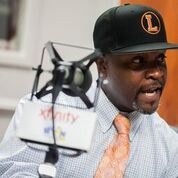 [/media-credit]
An accomplished educator, Shaka Rawls is a LEO High School alumni who returned to LEO in 2016, determined to give back to the school that provided the foundation for his success. As principal, he is committed to the training and educating of young black men to prepare them to become leaders in their communities, empowered by knowledge and education. Working with his staff and administration, LEO high school worked diligently over the summer to develop an instruction platform that kept its students safe yet did not compromise their educational standards.
"Along with our mission of providing a high-quality, values-based education to our students, our top priority is the health and safety of our young men and their families, as well as the health and safety of our faculty, staff and the entire Leo School Community," Principal Rawls said
Danielle Sanders (DS): You decided to return to remote learning this semester compared to other Catholic High Schools who decided on In-Person learning.  Initially, you planned to open in the fall and changed. What guided that decision, and do you feel it was the right thing to do, especially since schools like St. Rita have reported COVID-19 cases among students?
Shaka Rawls (SR):  This was complicated. We know that our boys need to be in school learning. Leo High school operates as a family structure that works much better when the boys are in the building. We had been watching the infection rate that was standing at 4.0 percent but disproportionately spiking in the communities that we serve. We surveyed parents and realized that with CPS going virtual, we needed to consider the number of students responsible for non-Catholic school students, which was significant.  We also polled families to determine how many were living with people in with people who are in what is considered "high risk" categories, again a significant number.  We concluded that risking our community's health and safety to reopen then to have to close with the potential risk of positive cases was not an option.
DS: In deciding to go remote, what preparations did you and your administration consider and/or implement to ensure students remain engaged and productive?
Shaka Rawls: Keeping the classes synchronous was the first lesson we learned from the spring. We had to keep a routine and keep it as normal as possible. We also provide intervention specialists to follow up uniquely with students not engaged.  We have been flourishing so far, going into week four.
DS: LEO High School is primarily black. How does LEO high school approach the education of young black men differently that ensures their future success?
Shaka Rawls: Black and brown students require more nimble instructional approaches absent a one size fit all model.  We can tap into multiple learning and assessment modalities to pull out what is excellent in our students.  We have subscribed to the idea that not all students are alike and require different techniques to succeed. We leverage that to teach traditional methods to acquire knowledge to make sure that they are ready for the next phase of their education.
DS: Young black teens are dealing with so much now. Between COVID, Protests, Violence, and Police Brutality, how do you address the many emotions they may feel watching the news and/or social media regularly. How do you help them balance what they feel with what they need to do regarding their education? How does Leo help their students cope mentally and emotionally to what is happening in the world around them?
Shaka Rawls: Times are challenging, these are concerns that we have not experienced before, but the thing that we keep forgetting is that we are the offspring of our ancestors. We have, as a people, black or brown, have experienced worse.  We watched our men stolen, women raped, children forced into slavery, and we still managed to build this country. We have overcome before and will continue to do so. Although methods, communication, and times change the spirit that is Harriet Tubman, Shaka Zulu, Fredrick Douglas, the blood that is Malcolm, Madam CJ Walker, or John Lewis runs through our veins.  We must position ourselves as agents of change rather than passive participants during this time. That is how we turn from victim to advocate.
DS: Many parents rely on their kids, going to school because they have to work. What can working parents do to ensure their kids' success during the fall semester, especially those who may not be home because they cannot work from home?  What can working parents do?
Shaka Rawls: This is easy, communicate, communicate, and communicate. Our boys are old enough to start to take control of their education. Parents should "look over their shoulders" during this time. We are preparing them for a not so distant future when they will be responsible without parental support. If we can teach this early and perfect this, then their four years in college are easy.
DS: There is quite a bit of talk about the digital divide, especially in black households. What technology are you using, and how did you ensure your students would be adequately prepared.
Shaka Rawls: There seem to be two issues here: giving students a Chromebook and access to google classroom. We believe that we have closed the digital divide. Then we have to teach students how to access, evaluate, and manipulate the internet's vast landscape. We have started with the former and will end with the latter.  It is not just about having access, speaking in terms of technology, but being able to manipulate technology; that is our goal.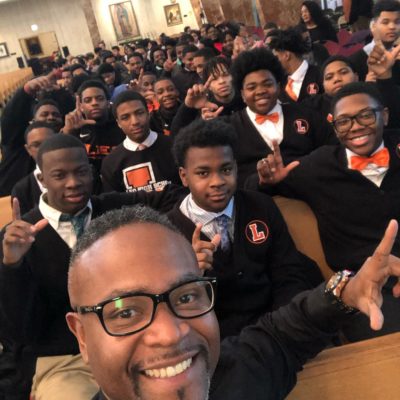 DS: Leo High School has taken an active role in their students' lives and their community. Why is it essential to remain engaged and involved with the community, especially with young people who may not attend your institution?
Shaka Rawls: This is not about Leo High School. What we have experienced during COVID, uprisings, social injustices has been about us. If we do not take care of us, who will? Our little school has always helped the working poor of Chicago, and just because our demographics change does not mean our mission does. We need institutions in our communities that have the next generation of leaders in their folds to stand up. Our goal is to help the community but, more importantly, to teach our boys the importance of helping the community.
While we as a community focus on generational wealth, we are focusing on generational help, we got us!
Danielle Sanders is a freelance writer living in Chicago. Find her at @daniesandersofficial.
The post Shaka Rawls, Principal of Leo High School puts His Students and Community First. appeared first on Chicago Defender.