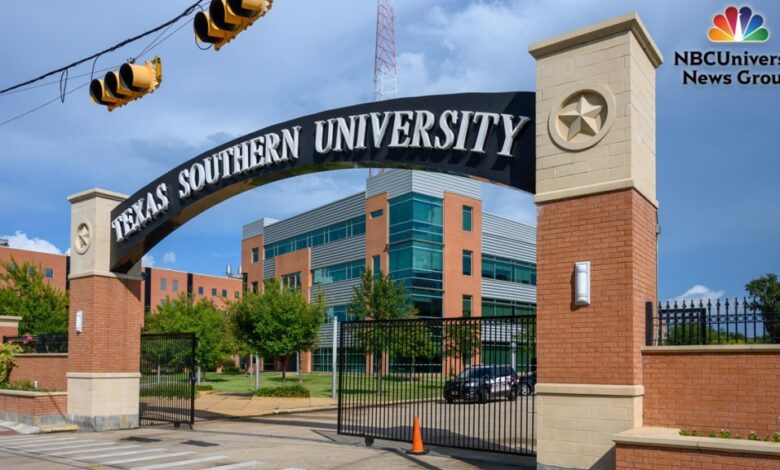 Texas Southern University (TSU) has been named to the NBCUniversal News Group's NBCU Academy, joining 14 other colleges and universities as new academic partners.
The award-winning journalism training program provides students from underrepresented communities a pipeline into newsrooms across media and technology.
On the heels of NBCU Academy's second anniversary, Cesar Conde, NBCUniversal News Group Chairman, recently announced that NBCU Academy had increased its membership by 50 percent, with 15 new schools joining the 30 colleges and universities that have been part of the award-winning program.
Conde also announced that NBCU Academy will offer a course on the fundamentals of journalism, which is publicly available on the redesigned NBCUAcademy.com for journalism students and media professionals. The free course will build a foundation for newsgathering and storytelling through firsthand lectures and curriculum produced by journalists and leadership across NBC News, MSNBC, CNBC, and Noticias Telemundo. Through a series of online modules, the course will provide interactive scenarios and best practices on the essentials of reporting, journalism ethics, interviewing skills and more.
"This expansion is a direct result of the success we've had with our partners," said Yvette Miley, Senior Vice President of Diversity, Equity & Inclusion for NBCU News Group. "We are proud to build off the momentum of the past two years and continue the program's impact as we grow further in the Western region."
Since its inception in 2021, NBCU Academy partners have received funding, resources, training, and development — in addition to access to the News Group's world-class journalists.
"Journalists who trained at Texas Southern University are leading the industry in markets all across the nation as multimedia content creators," said TSU School of Communication Interim Dean Dr. Christian Ulasi. "As we continue that important work, and as journalists continue to play an integral role in our society, we are proud to join with the team of world-class journalists at NBCU to provide an even higher level of instruction and hands-on training to our students."
This spring, NBCU Academy will present its third "Next Level Summit" on March 22. The free, all-day virtual program will feature journalists and executives across the NBCU portfolio and offer networking, headlining sessions and breakout discussions on trends that are transforming the media industry. NBCU Academy hosted two Summits in 2022, which were attended by nearly 4,000 participants, including students and media professionals worldwide.
"Partnerships are integral to advancing the University's commitment to providing an excellent education for our students in the classroom and beyond," said Melinda Spaulding Chevalier, TSU Vice President for Communications and Advancement. "We look forward to the transformative work that will be done as a result of this partnership with NBCU Academy."
In addition to TSU, the other 14 new academic partners include:
Berkeley M.E.T. in Berkeley, CA
Columbia College Chicago in Chicago, IL
Fond du Lac Tribal and Community College in Cloquet, MN
Helena College- University of Montana in Helena, MT
Langston University in Langston, OK
Metropolitan State University of Denver in Denver, CO
Hood Community College in Gresham, OR
Nevada State College in Henderson, NV
Tennessee State University in Nashville, TN
The Ohio State University, College of Engineering and School of Communication in Columbus, OH
United Tribes Technical College in Bismarck, ND
University of Arizona, School of Journalism in Tucson, AZ
University of Central Florida, Nicholson School of Communication and Media, in Orlando, FL
University of Missouri School of Journalism, in Columbia, MO
NBCU Academy has elevated the next generation of journalists, providing students from underrepresented communities a pipeline into newsrooms across media and technology. NBCU Academy's pioneering Embed Program creates roles for recent graduates from partner schools and institutions with diverse student populations.
In two years, NBCU Academy has assigned 11 Embeds full-time, two-year job assignments across the News Group's on-air and Digital platforms, Marketing, Global Talent Development & Inclusion, Data Sciences, and Diversity, Equity & Inclusion.
NBCU Academy reflects Comcast NBCUniversal and NBCU News Group's commitment to diversity, equity and inclusion. This initiative provides tools, resources, and platforms for underrepresented voices in partnership with Historically Black Colleges and Universities, Hispanic-Serving Institutions, STEM Programs, and colleges with significant Latino, Asian American and Pacific Islander, Black, Indigenous, and tribal populations.
In June 2020, Comcast NBCUniversal announced a multi-year commitment to help address systemic racism and inequality. In July 2020, NBCU News Group Chairman Cesar Conde announced the Fifty Percent Challenge Initiative, a goal for the News Group workforce to be 50% women and 50% people of color.
The post Texas Southern University named to NBCUniversal News Group's NBCU Academy appeared first on Houston Forward Times.