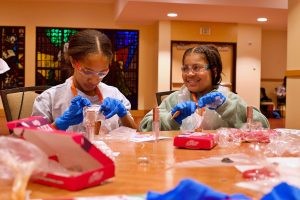 By Reuben Greene,
Special to the AFRO
STEMcx Conference 2023, held March 11 at New Psalmist Baptist Church in Baltimore, was the ultimate event for children who are passionate about science, technology, engineering and mathematics. This year's conference welcomed 250 middle school students and parents for a full day of STEM activities. Additionally, the gathering brought together innovators, educators, entrepreneurs and policymakers from around the state to discuss the latest advances, opportunities and challenges in STEM fields that affect Baltimore.
One of the highlights of the conference was the panel discussion conducted by Lt. Gov. Aruna Miller. A leading advocate for STEM education, the lieutenant governor shared her view of how STEM education can help drive economic growth, spur innovation and address societal challenges for the younger generation. Attendees had the opportunity to interact with her and gain valuable knowledge and inspiration from her experience.
Whether you were a student, educator, or industry professional, the STEMcx Conference 2023 was a must-attend event.  Undoubtedly, the connections made between everyone in attendance was an opportunity to explore the latest trends and innovations, and be part of shaping the future of STEM.
The post Students discover innovative technology at 2023 STEMcx Conference appeared first on AFRO American Newspapers .
This article originally appeared in The Afro.