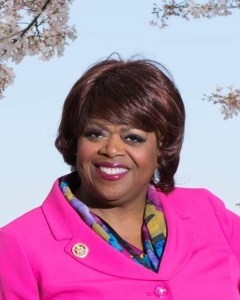 Maryland
#FaithWorks: Reflections on receiving a Morehouse Lifetime Achievement award
By Dr. Suzan Johnson Cook
"This is the Lord's doing…It's marvelous in God's eyes"
Thursday, April 13th, the date of my late father's birthday, has become a major day in my life story and history.
On Thursday, April 13th, 2011, I was confirmed by the U.S. Senate to become our country's Ambassador at Large for International Religious Freedom.
And it was Thursday, April 13th that my portrait was hung in the Morehouse International Hall of Fame, for Lifetime Achievement, beside Dr. Jeremiah Wright, my D. Min. Samuel Proctor Fellows classmate; and whose daughter, Rev. Jeri Wright now works beside me as business minister.
How awesome it was in so many ways! The day was shared with my cohort of 30 Black women pastors in the REAL Black women THRIVE initiative that I lead; a $1.5 million funded ministry by the Lilly Endowment, to empower, engage and expand opportunities and horizons for Black women in ministries.
It was also the day we all were inducted into the 37th College of Ministers and Laity at the Morehouse Chapel, a masterful genius of a vision of Dean Edward Carter Sr., dean of the Morehouse Chapel.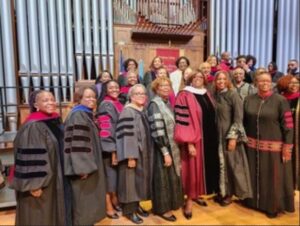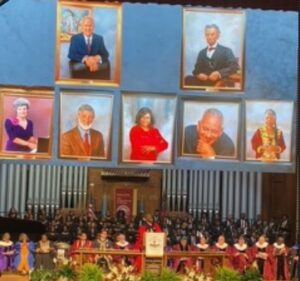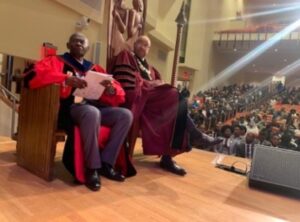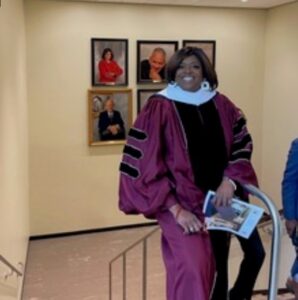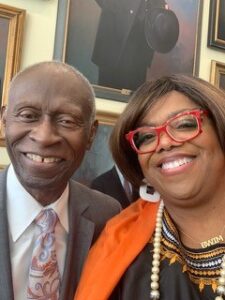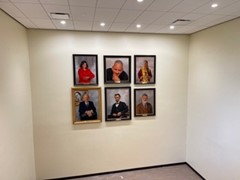 We shared the stage with 100 ministers from throughout the nation, and the auditorium was filled with more than 1,000 members of Latter Day Saints, many of whom I met during my tenure as Ambassador. It was awesome to see peers, colleagues, spiritual sons and daughters, who throughout the years, have served together. Dean Carter also orchestrated this to be the largest induction class of women in ministry—ever. More than half the inductees were women, 30 of whom were my cohort.
As people celebrated and congratulated me on social media and in phone messages and letters, they said continuously, "well deserved for lifetime achievement."
I brought the luncheon message, "You'd better bring it," based on the Mark 16 passage about women who brought their spices to Jesus for his burial; to help with the decomposing body, yet he was alive, and the stones had been rolled away. It reminds us of how we must "bring" our gifts, our spices, to God in a world that's decomposing, and recognize that Jesus is very much alive for us too.
These past years have been about legacy for me..helping a generation of leaders, especially Black women, and those who will follow, with being clear on how we must go forward. My legacies are: raising two Black powerful men, leading The REAL Black women in ministry, and building the first chamber of commerce focused solely on Black women business owners worldwide, the Global Black Womens' Chamber of Commerce (www.GlobalBlackWomen.org).
I reflected on my parents who had begun their journeys in the fields and had to use an outhouse, and here their daughter was at MoreHouse. Amazing journey. It still continues. I heard Dr. Cornel West, who had been my professor at Union Theological Seminary, and who was today's Howard University Chapel speaker. Among the many nuggets that stood out, he said, "When we are all in the room, people should feel the spirit of our ancestors in us. On Thursday, April 13, 2023, with my son, a doctor at Morehouse Hospital, on my late father's birthday, I felt the spirit of my ancestors, speaking to me, and preaching through me, and now we all hang together in the International Hall of Fame at Morehouse College Chapel, and I thank God for all that God is doing and has done.
At Gov. Wes Moore's inauguration, a few months ago, I stood there and marveled at this man, whose journey I had followed and had a little to do with. I see him "crushing" his role as the first African-American Governor of Maryland. And for all of us who are first in our arenas, we must "crush it," serving to the best and highest standards, to the glory of God.
The post #FaithWorks: Reflections on receiving a Morehouse Lifetime Achievement award appeared first on AFRO American Newspapers .
This article originally appeared in The Afro.