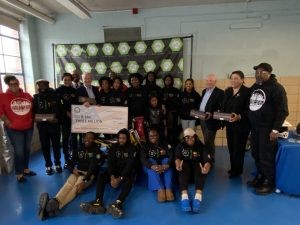 By Tashi McQueen,
AFRO Political Writer,
tmcqueen@afro.com
After more than a year of work, Brittany Young, founder of B-360, accepted a $3 million federal investment for the nation's first dirt bike campus on March 24.
"Imagine a space where you can ride indoors, a space [where] you can run outdoors, a commercial kitchen, classrooms [with] homegrown talent front and center, right here in Baltimore," said Young.
B-360 is a non-profit that utilizes dirt bikes as science, technology, engineering and mathematics (STEM) tools to foster community and inspire careers among Baltimore's youth.
"I submitted the grant [application] in February of last year. We went through the Senate and the omnibus process," said Young. "Getting approved seriously took time."
Through the 2023 fiscal year omnibus bill, B-360 was awarded $2 million for its multipurpose site and $1 million for its educational programming.
Young said the funding will be used  initially to hire staff and build the dirt bike campus.
As of 2019, only 4.1 percent of Black-led businesses are firms that have paid employees, compared to 19 percent of White-owned businesses, according to a 2022 Brookings report.
If Black businesses had an equivalent share to White-owned businesses, there would be 798,318 more Black businesses.
Sen. Ben Cardin and Sen. Chris Van Hollen, the state's Senate delegation (both Democrats, were a part of the "Baltimore City team" that helped Young secure the investment.
"Cherry Hill has a very proud history and a bright future," said Cardin at the unveiling. "We are very excited to be part of this effort."
Van Hollen spoke about the potential of B-360s vision.
"Bikes may look simple, but these are complicated machines," said Van Hollen at the announcement. "When you learn about the bike, you learn about mechanics, design, 3-D printing and physics. If you look at Baltimore City today, there are 120,000 good paying jobs in the STEM fields."
Young said that B-360's programs will remain 100 percent accessible to all Baltimore youth.
"Our program is completely free," said Young. "We want to offer memberships, an apprenticeship program, a place where people can repair bikes during the day and an after-school recreation [space]."
With the announcement, Young hopes to inspire other Black-led organizations to apply for federal funds.
"I hope that this success not only inspires people to join us, but it also welcomes more philanthropic partners to sow those seeds," Young told the AFRO. "This is just the beginning for us."
The 2022 Brookings report also found that 92 percent of Black-owned small businesses experienced financial hardship in 2020 and 53 percent were more likely to experience difficulty when applying for credit.
In the long run, Young is looking to expand.
"I want to be everywhere," said Young. "My goal is to be in Baltimore, Cleveland, Miami, Detroit, Chicago, Ghana and the list goes on. We can go far as long as people want to work with us."
Though the celebration's on, there's more work to be done.
"We're raising $10.5 million," said Young. "This three [million] helps, but we have seven more to raise. I'm hopeful we'll be able to continue to raise funds and let people know about the investment from the federal government and our senators."
Those who'd like to donate to the initiative can go to the Ride-4-Change website at b360baltimore.org.
Tashi McQueen is a Report For America Corps Member.
Similar articles:
Op-ed-finishing-the-road-paved
Baltimore-legacy-builders-launch-youth-empowerment
brittney-young-wants-make-baltimores-dirt-bike-culture-respectable
The post Baltimore to host America's first dirt bike campus appeared first on AFRO American Newspapers .
This article originally appeared in The Afro.