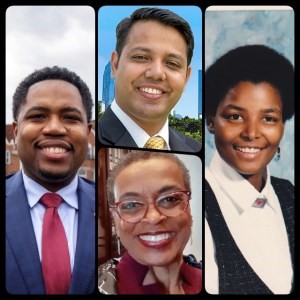 By Tashi McQueen,
AFRO Political Writer,
tmcqueen@afro.com
Looking through biographies of state legislators, you'll see various paths and journeys to a career in policy-making. While some elected officials pursued careers as lawyers or became business owners prior to their time in office, others –well before their titles as senators and delegates–
answered the call to serve the nation's youth as educators.
This week, the AFRO spoke with state legislators who made a pitstop in the classroom before joining the state legislature.
"Education lays a foundation for our society and how we operate," Sen. Mary Washington (D-MD-45) told the AFRO.
Del. Marlon D. Amprey (D-Md.-40), Del. Harry Bhandari (D-Md.-08), Del. Cheryl Pasteur (D-Md.11A) and Sen. Washington are just a few legislators who were teachers before they became legislators.
Pasteur said she was 21 when she taught her first class at the then-new Lake Clifton High School, which has since closed. She began teaching in 1971 and retired in 2012.
"I had my students when they were in the ninth grade and I took them to 12th," she said. "I always give them credit for [helping me] become the teacher that I am. No matter what I do– I'm a teacher first."
Pasteur taught and served in administrative positions in Baltimore City and County Public Schools.
She told the AFRO that she felt well-supported as a teacher throughout her career, with help and guidance from principals, administrators and superintendents of her time.
Looking forward, Pasteur noted special education as a critical aspect of her education agenda.
"We are mistakenly assuming [that] because a child needs certain support, they are not gifted," said Pasteur.
Pasteur said she believes special education will see further investment in Maryland, stating that Blueprint for Maryland's future includes a special education pillar.
The early childhood education pillar of the Blueprint for Maryland's Future includes direction for special needs education. The goal to increase funding for the Maryland Infants and Toddlers Program will support special needs students.
Pasteur said she's on board with the Blueprint initiative.
"One of the things that I like about Blueprint is that the money goes with the students–not just a system or school. It is there to serve the needs of the students," she said. "I want to be a part of that."
Sen. Washington was a kindergarten teacher in Philadelphia for a few years.
"I had one year where I was a student teacher in a public school and then I had one full year as a kindergarten teacher on my own," said Washington. "When you're a kindergarten teacher, you have to teach them everything from how to work with others to how to sit in a seat, hold a pencil and express themselves outside of the family."
Through her experience, Washington recognizes the value of pre-k education.
"If we can get [students] as early as possible, that will guarantee their success," she said.
Washington hopes instruction in Maryland will become more personalized, project-based and outcome-oriented and focus less on simply receiving a numerical grade.
"So much of what we do can be automatic– not allowing us to exercise our brains, [which] is the source of our creativity and problem-solving," said Washington.
Del. Amprey has been a state delegate for three years and first worked as a teacher in 2009.
"I did a lot of learning in African American Studies and the thing that we learned the most about was educational gaps for Black and Brown children–particularly Black children," he said.
Amprey got his master's in education at George Mason University for elementary instruction and curriculum. Amprey taught at Howard Road Academy Public Charter School through Teach For America in Washington, D.C., from 2009 to 2011. He then went on to teach sixth grade at The SEED School of Maryland from 2011 to 2013.
"I was able to become a good teacher and do good work [by] connecting with my students," said Amprey. "I always lived in the same zip code as my students. I lived on campus at the SEED School. I did home visits, went to games, hung out with the parents and went to their churches when invited."
Amprey said his work in the classroom helps him more accurately vote on legislation related to education in the state of Maryland.
"My teaching experience has allowed me to know what children need," Amprey told the AFRO. "I'm not voting [in the General Assembly] based on what I think is true. I'm not voting based on an article someone wrote– I'm voting based on my classroom experiences and working in schools where air conditioning wasn't working or where students had to learn in trailers."
Amprey said he hopes to introduce legislation or supplemental legislation in the coming session to ensure more Black men become educators in Maryland.
Like Amprey, Del. Bhandari said his time in the classroom informs how he proposes and votes on legislation related to education. He currently works as a Baltimore City Public Schools teacher.
"I'm committed to working on legislation that will improve the quality of education for all Maryland students," said Bhandari. "I have been teaching for 17 years. I'm a lifelong educator."
Bhandari says that teaching peace resolution as a priority for youth right now– especially given violent crime statistics for teens and children.
"Our kids don't know how to resolve conflict," said Bhandari. "I think that our school systems should teach conflict resolution to students. We can prevent future incidents of violence and promote a more peaceful and harmonious school community. So when students are outside of school, they are productive members of society."
Bhandari introduced HB 1110, Peace and Conflict Studies- High School Course, but it did not reach a second reading. He said the bill may have failed because of the costs associated with the course.
"It would cost close to $22 million for the state," he said.
Bhandari said he plans to re-introduce HB 1110 next session.
"My perspectives [about the needs of society] would not be the same if I had not been a teacher," said Bhandari. "Every day, I learn from my students. If I was not an educator – I don't think I would be serving as a legislator."
Tashi McQueen is a Report For America Corps Member.
The post AFRO spotlight on Black excellence: meet the Maryland legislators who got their start in the classroom appeared first on AFRO American Newspapers .