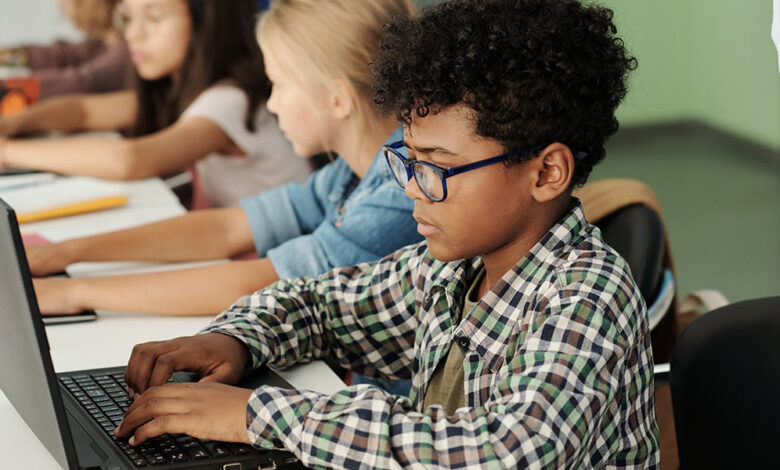 By Andre Ash,
Word in Black
Miguel Cardona, secretary of the U.S. Department of Education, wrote an opinion column in the Tampa Bay Times, calling to "enrich public schools, not ban books and topics."
Secretary Cardona laid out a number of ideas for how to proceed with the evolution of public education as how and what students are taught has been spotlighted by some politicians taking a firm stance in criticizing what has been introduced in the classroom.
How Cardona sees it, "parents don't want politicians dictating what their children can learn, think and believe," according to the column. "That's not how public education is supposed to work in a free country."
The education secretary's stance is an outward rebuke to Florida Governor Ron DeSantis and other Republican politicians seeking to ban certain books and studies.
DeSantis' administration has banned Florida's public schools from teaching advanced placement of African American studies. A pilot college course the state's Department of Education says "significantly lacks educational value" and would consider a revised curriculum with "lawful, historically accurate content."
DeSantis has said Black history is required but has publicly called out the course in what he believes was designed to advance a political agenda to "indoctrinate."
The move to cancel the advanced Black studies course comes after the Governor's Stop Woke Act, a bill he signed into law in 2022 to fight off diversity and inclusion efforts in schools and businesses.
In a one-on-one interview with the Michigan Chronicle, Cardona hits back at this effort he believes is designed to remove Black history.
"I'm tired of these attacks on DEI (Diversity, Equity, and Inclusion). I'm tired of politicians who are trying to score points and infusing themselves in our schools," Secretary Cardona remarked.
He believes a local school board and educators should set the curriculum in schools, while parents should have access and a say in their child's education as well. The education secretary says what's happening across the nation is censorship in schools and government overreach.
"It's not just one state that is doing this," Cardona said. "My concern is around targeting Black history or books that highlight the Black experience in our country. My concern with that is that it's very specific, it's very targeted."
Cardona wants children to see themselves in the curriculum, learning where we've been as a nation, who we are, and where we're going.
"These discussions can be hard. But they become impossible when politicians try to hijack them to promote their own partisan agendas," according to Cardona's opinion column.
In his interview, Secretary Cardona said he had to strike back on Florida's efforts to silence Black studies and other similar attacks on it.
"It's a very specific attack on Black history and for me, silence is complicity, so not saying something would be a problem for me – so, I said what I said.""Attempts to divide our schools, attempts to target specific groups of people just goes against the role of public education."
This article was originally published by Word in Black.
The post U.S. Education Secretary Miguel Cardona fires back at push to dismiss Black studies appeared first on AFRO American Newspapers .
This article originally appeared in The Afro.