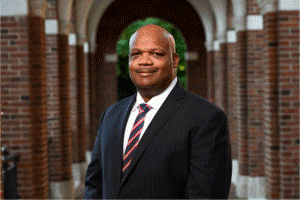 By Special to the AFRO, JHU Hub
Johns Hopkins University announced today that Vice President of Public Safety Branville Bard Jr. will serve as the inaugural chief of the Johns Hopkins Police Department (JHPD) to closely oversee the development and implementation of a progressive law enforcement agency based in accountability, transparency and community engagement.
Bard, who has served as vice president of public safety since August 2021, will oversee the establishment of JHPD policies, procedures and staffing that he said will ensure a culture of public service governed by transparency and accountability unprecedented in Maryland policing.
"I am humbled and honored to share that I have been asked to serve as the inaugural chief of police for the JHPD," said Bard. "From policies and procedures, to hiring and training, I will be present to make sure that the details in our founding principles are grounded in building community trust and ongoing opportunities for input."
Bard will proceed with the implementation phase of the JHPD as spelled out in the recently approved memorandum of understanding with the Baltimore Police Department and the Maryland Community Safety and Strengthening Act of 2019.
In an email to the community, leaders from Johns Hopkins University and Medicine cited Bard's exceptional track record as a community-oriented law enforcement professional and as an outspoken and passionate advocate for social justice, racial equity, and police reform.
"We are fortunate for Dr. Bard's impactful leadership at this important moment for Johns Hopkins and look forward to working with Dr. Bard as we work together to create a comprehensive, progressive, community-oriented, and community-accountable public safety operation that prioritizes your safety, dignity and well-being," wrote JHU President Ron Daniels, Interim Dean of the Medical Faculty and CEO of Johns Hopkins Medicine Theodore DeWeese, and President of Johns Hopkins Health System and Executive Vice President of Johns Hopkins Medicine Kevin Sowers.
Bard vowed to incorporate community feedback from the many relationships he has established with university and neighborhood leaders as he institutes a progressive policy framework that has absorbed the lessons from the national reckoning about traditional policing methods.
"Over the past year and a half, I have spent time meeting and talking with students, faculty, staff, and neighbors. What I hear most consistently from members of our community is they want to feel safe, and they want to have direct input into how we develop the JHPD," Bard said. "And as the inaugural chief of police, I believe my job is to protect the public from two things: crime and bad policing. I commit to working together with the community to shape the JHPD as a model, community-oriented, transparent, and constitutional public safety organization."
Following an extensive national search, Bard was hired as vice president of Public Safety in 2021, with a mandate to build a comprehensive approach to public safety that embraces root cause prevention; innovative responses to behavioral health crises; community partnerships; highly professional traditional campus public safety; and a small, progressive, publicly accountable police department.
As the inaugural chief of police, I believe my job is to protect the public from two things: crime and bad policing. I commit to working together with the community to shape the JHPD as a model, community-oriented, transparent and constitutional public safety organization."
Branville Bard Jr.
During his tenure, Bard has helped launch the Innovation Fund for Community Safety, a $6 million dollar fund to support community-driven public safety solutions. The university has also established a Behavioral Health Crisis Support Team that pairs clinicians with specially trained security officials to provide in-person assistance to people experiencing behavioral health crises. The encouraging results on the Homewood campus led the university to expand coverage to include the Peabody/Mount Vernon area.
Bard has spent his 28-year career in law enforcement working to reform policing culture and policies and championing public safety strategies that safeguard the civil rights of individuals and are based in building community trust. Bard earned both a master's degree in criminal justice and a doctorate of public administration from Valdosta State University in Georgia, where his dissertation focused on strategies to eliminate racial profiling.
"Dr. Bard's commitment to developing a progressive approach to public safety and leadership in our Public Safety department make him the person best suited as our chief of police for the Johns Hopkins Police Department," said Laurent Heller, senior vice president for Finance and Administration for Johns Hopkins University. "Throughout his career, Dr. Bard has been a respected national voice on the need for policing to be progressive and community-oriented. We are honored that he will lead the JHPD."
Prior to working at Johns Hopkins, Bard served as police commissioner for the Cambridge Police Department in Massachusetts—home to six colleges and universities and three hospitals —where he created the department's procedural justice section to review data relating to police citizen interactions for indications of biased policing. He spent 24 years working for his hometown Philadelphia Police Department, leading the city's largest police district and later served as chief of the Philadelphia Housing Authority Police Department.
Bard has successfully completed several advanced career development programs, including the FBI's National Academy, the Police Executive Research Forum's Senior Management Institute for Police, Harvard University's National Preparedness Leadership Initiative, and Harvard University's Senior Executive Fellows. He has also earned an Executive Education Certificate in Public Leadership from the Harvard Kennedy School.
This article was originally published by JHU Hub. 
https://hub.jhu.edu/2023/04/19/branville-bard-jr-inaugural-police-chief-jhpd/preview/ 5/5 
The post Branville Bard Jr. to serve as inaugural police chief of JHPD appeared first on AFRO American Newspapers .
This article originally appeared in The Afro