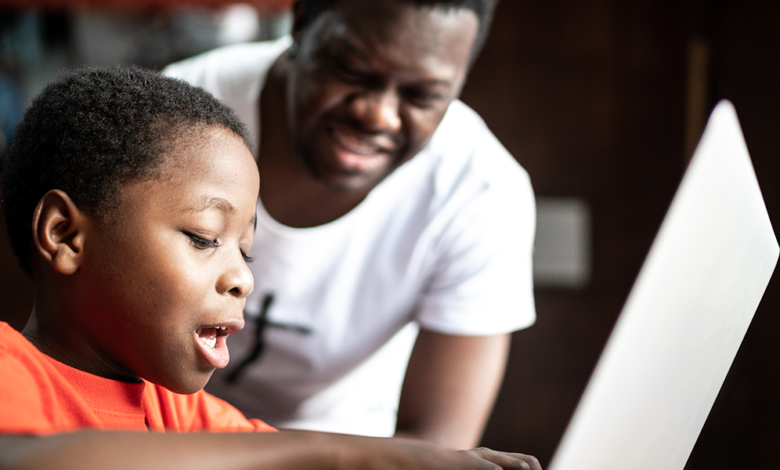 By Dianne Anderson
Critical race theory in school curriculum stirs up resistance everywhere, and that's where Trina Greene Brown comes in with Parenting for Liberation, teaching Black parents how to teach their children what traditional schools won't touch.
Her nonprofit offers support and tools to recover from the historic trauma of exclusion.
Parents come together at her Black Parent Innovation Lab, to learn to tackle the issues that are attacking their families. They come up with creative learning projects, and work out new ways of weaving Black history into learning.
Paying it forward is important to her, she said. It's the same way that she was able to start her parent outreach because someone invested in her idea.
"We bring Black families together to research their ideas, we give them funding to test their ideas and provide wraparound support and training. We did that over the course of six months and we graduated eight Black parents," she said.
She also feels that parents must resist the idea that they don't know the right way to teach their own children. She said their program is creating ways for their children to see themselves in the curriculum, both inside the homes and outside of classrooms.
"We do have expertise. We have a right as Black people to learn our real history, our real true culture," said Greene Brown, who also teaches African American studies at Cal State University, Fullerton.
Funding for her program comes by way of the Orange County Community Foundation, which she said has paved the road to collaborations and amplifying the voices of many nonprofits through the African American Alliance Fund. Through the affiliation, she has been able to connect with the cohort of other grant recipients, and make several positive indirect connections.
She spoke with a panel of grantmakers, which also led to a funder that funded her work. The experience has been invaluable for many reasons.
"But it's also a commitment and a shift away from competition from fighting over scarce resources, to see there are more resources available, rather it's how can we come together to leverage all of our power," she said.
Parent power also manifests in other forms.
For the nonprofit Learning Rights Center, the fight for rights carries over into classrooms in a different way, by working with parents to get Black and Brown students services because they often experience wrong labeling.
Heather Zakson, legal director for the Learning Rights Center, said the system can be hard on families with children who have disabilities. Most often, the barrier she sees is that children are not getting the services they need to learn and participate in school programs.
Some students may have fallen behind back in elementary school, and need remediation to catch up by middle or even high school. The other problem is that Black and Brown students are historically either over-identified with learning disabilities, or under-identified.
"A lot has been written and discussed about it over the years, where some students are labeled as ineducable. The reasons for that are deep and varied. A lot goes on with something that is woven into American society," she said.
But she said there are legal efforts to provide a safety net when testing for disabilities to prevent over-identifying a student as having a learning disability.
She also sees the disturbing trend of Black girls being mislabeled as aggressive if they are having trouble understanding classes.
"Study after study, there is a different expectation for how Black girls are supposed to act. When they demonstrate difficulty like learning difficulty they're flagged behavior problems. They're shunted off to a disciplinary tract versus educational tract," she said.
Disparities also show up in close connections to the pipeline to prison. One older study shows that 80% of the kids in Juvenal Hall had undiagnosed learning disabilities, but she wonders how many were not given an opportunity to learn.
"This is all of our fight, the young Black men and women who have the same rate of disability as white students. Come on — a brain is a brain," she said. "[It's] you ask too many questions. You're a troublemaker, it ends up in suspensions and expulsion."
Since COVID, all documentation is submitted electronically, with clients  or caretakers meeting on Zoom or Facetime. In the past, clients had to come into the office, and physically pick up documents from the school. Today, parents call the organization's intake line, give permission to contact the school, and the process is streamlined electronically.
For low-income families who may not have reliable transportation or be able to take time off from work, the approach is a big help. The nonprofit only serves those who are at or below 250% of the federal poverty level.
Zakson points out that any student designated with an IEP has an equal shot at graduating, and qualifying in every way for community college, trade school, or a university.
Students going into higher education are not mandated to tell anyone at the college that they have had an IEP or 504, unless they are seeking additional help.
Her organization welcomes working with Orange County Black parents and nonprofits to help wherever they can. They bring in attorneys to do a sit-down for a clinic.
"You bring IEP documents, you bring your school records. We'll sit there with you, what's the problem, what do you think is the solution, how can we get there?" she said.
To reach Trina Greene Brown, see www.parentingforliberation.org or email trina@parentingforliberation.org
For more information, see
https://www.learningrights.org/
The post Groups Support Black Parents and Students appeared first on Precinct Reporter Group News.
This article originally appeared in The Precinct Reporter News Group.