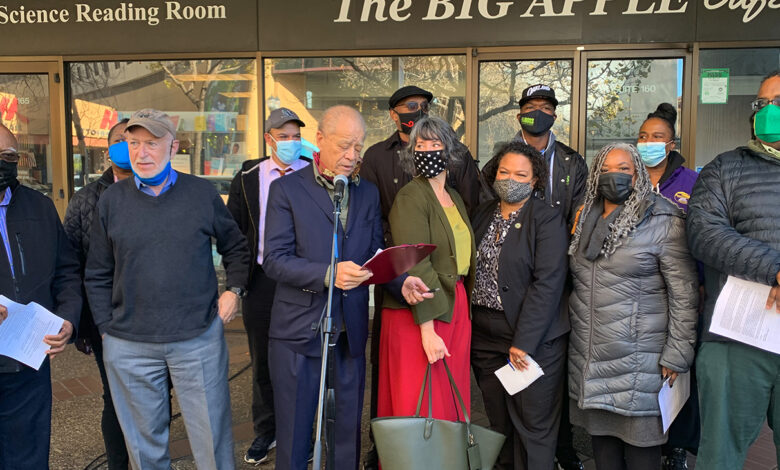 By Post Staff
Speakers at press conference Thursday, in front of the school district headquarters in downtown Oakland demonstrated the determination of a broad coalition of community leaders to oppose the hostile takeover of the school district by L. Karen Monroe of the Alameda County Office of Education and the state-financed nonprofit, the Fiscal Crisis Management and Assistance Team (FCMAT).
The press conference was organized on short notice by the teachers' union, the Oakland Education Association, and the Oakland Post Salon in response to a recent letter to the district from Supt. Monroe saying the school district must cut $90 million from its budget.
Monroe's letter also threatened that the salaries of Oakland Supt. Kyla Johnson-Trammell and the school board might be withheld, and the elected school board required to follow the decisions of the unelected staff of FCMAT, which has long pushed for closing neighborhood schools.
OEA President Keith Brown called for solidarity in the face of the current threat. "We stand together today to say we will not let the schools be taken over by FCMAT and the county. We will not go backward to 2003, when we were forced into a $100 million loan and school closures."
Assemblymember Mia Bonta said, "I stand in solidarity with the district and the children of Oakland. I want to stand with Oakland, our teachers, and our families."
Boardmember Mike Hutchinson, who has long fought against forced school closures, said Monroe's letter arrived two weeks after the school board voted that "We are done with school closures."
"This is retaliation," he said.
Kimberly Mayfield, dean of the School of Education and vice president of external relations and strategic partnerships at Holy Names University in Oakland, said "We stand in solidarity with Supt. Kyla Johnson-Trammell and the elected school board members who are against the recommendation to cut $90 million from the OUSD's budget and the takeover of the district."
John Jones III, parent and community activist, said, "This is an affront, an assault and an attack on our students and our democratic process here. Our students need hope, not a rope that will hold them down."
Alysse Castro, candidate for Alameda County Supt. of Schools, said, "We cannot cut our way to social justice," adding that the state and county must not be an obstacle but actively help fix Oakland's problems.
In a statement read by her staffer, Councilmember Rebecca Kaplan responded to the demand for $90 million in cuts. "We see this for what it is," she said. "It's an obvious move to counter the district's resistance to closing schools in Oakland. We need all of our schools open. Oakland has seen enough school closings."
In a prepared statement, Councilmember Carroll Fife said, this threat to Oakland schools is part of a pattern.
"Private interests want to own our schools, and there is no shortage of high-paid, bureaucratic leaders who would hand the schools to them. They salivate over the money to be taken from OUSD, and people in administrative positions have helped manufacture the problems that would allow takeover. We have to tell them, "HELL NO!"
Emily Filloy, speaking for Educators for Democratic Schools (EDS) said, "EDS opposes the Alameda County Office of Education's designation of Oakland Unified School District as a Lack of Going Concern. This designation is sudden, hasty and punitive. While there may be concerns regarding the district's budgetary processes, resorting to FCMAT is not a solution, but a punitive action."