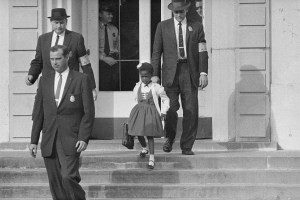 By Aziah Siid,
Word in Black
After blocking AP African American Studies from being taught in its schools, Florida is at again. In today's episode of "White Efforts to Ban Black History," the Disney film "Ruby Bridges," is on the chopping block at a school in Pinellas County.
The 1998 movie depicts the famous story of Ruby Bridges, the six-year-old girl who integrated public schools in New Orleans in Nov. 1960.
Bridges, who is now 68 and a civil rights activist, became the first Black child to attend an all-White public elementary in the South.
The film depicting her story has long been shown in Pinellas County Schools, which is the seventh-largest district in Florida.
But 63 years after Bridges' bravery, telling the truth about what it took to desegregate schools in New Orleans is too much for Emily Conklin, a parent at Northshore Elementary School
Conklin provoked the ban of the film after writing a formal complaint about it on March 6.
The Tampa Bay Times reported that Conklin's complaint centered around the film's "use of racial slurs and scenes of White people threatening Ruby as she entered a school."
The mom, whose child is a second-grader, felt that such scenes "might result in students learning that White people hate Black people."
In response, the school took swift action and has now banned the film from being shown.
Conklin has also asked for the film to be banned from all schools in the district, according to the Tampa Bay Times.
"#Florida is scared of kids learning about systemic racism, so this school district banned the film, "Ruby Bridges" tweeted Seattle-based teacher and Black Lives Matter organizer Jesse Hagopian.
"U.S. history can be ugly—like White people screaming at a Black 6-year-old for going to school—but we must face it. #LegalizeBlackHistory."
Florida is increasingly censoring what students can learn — particularly about race and sexuality — and it's apparent it doesn't take much for parents to make that happen.
But the incident is just the latest in a nationwide pattern of banning content that tells the truth about and depicts the Black experience. In particular, books and other educational materials are being stripped from libraries and classrooms in an attempt to block Black history from being taught.
Only two months ago, Pinellas County Schools banned Toni Morrison's masterpiece, "The Bluest Eye," after a local mom slammed the district, stating she was, "shocked any adult would expose 15-year-olds' to the book's 'explicit descriptions of illegal activities.'"
Ultimately, the school board members decided to ban the book across the district.
Nearly 60 days later, a single complaint from Conklin decided the fate of what was formerly a staple in Pinellas County curriculum.
Ric Davis, president of the Concerned Organization for Quality Education for Black Students, wrote that no one person, regardless of race, should prompt such a drastic change to happen.
"Many from historically marginalized communities are asking whether this so-called integrated education system in Pinellas County can even serve the diverse community fairly and equitably," he wrote in an open letter.
Twitter user Ray Loewe pointed out other outrageous bans that have occurred during Gov. Ron DeSantis Stop Woke campaign — many of which were also prompted by a single parent's complaint.
"A movie about Ruby Bridges. A photo of the statue David. A book about Jackie Robinson. What do these have in common?" Loewe asked. "They were all removed from Florida schools after a SINGLE parent found them objectionable. This is life in Ron DeSantis' Florida."
In the meantime, the district has a review committee that will make a final decision about the status of "Ruby Bridges" in the district.
This article was originally published by Word in Black.
The post Oh, White fragility: Florida school bans Ruby Bridges film appeared first on AFRO American Newspapers .
This article originally appeared in The Afro.