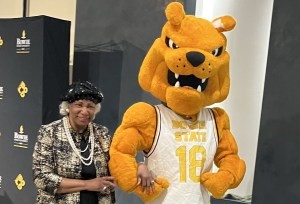 By Deborah Bailey,
Contributing Editor
Barbara Jean Smith has been a faculty member with the Bowie State University School of Education for 50 years.
That's fifty years of sharing and shaping the fundamentals of education.
Fifty years of ensuring Bowie State- trained educators head off to their classrooms with best pedagogy.
Fifty years of the joys and struggles that come with navigating the ever- changing landscape of K-12 education with students, colleagues and the broader Prince George's county community.
Colleagues, friends and students walking the journey with Smith thought now was the right time to recognize Smith's landmark anniversary with the campus community  and "give her flowers now," said Rosalind Muchiri, director of major gifts for Bowie State University.
"Our committee first came together in August, 2022 at our Faculty Institute," said Dr. Lynne G. Long, chair of teaching, learning and professional development for Bowie State's College of Education.  "We pinned the phrase for her 50K for 50 Years of Service," Long continued.
Long said the goal of the team recognizing Smith's contributions was to raise a minimum of $50,000 honoring 50 years of service to teaching students at BSU and enhancing the education profession.
The first big activity held by the Smith legacy foundation team, was the recently held Barbara Jean Smith Legacy Prayer Breakfast in February. Generations of students, mentees and well-wishers returned to Bowie State University to honor the living legend.
As one of the campus' first major in-person events since the start of the pandemic three years ago, admirers were waiting in line to recognize Smith's many contributions.  Many are still looking to speak a kind word to Smith and reflect on the doors the Bowie State alumnae, veteran instructor and lifelong member of Alpha Kappa Alpha (AKA) Sorority opened for many.
"She introduced me to so many people and exposed me to many opportunities. The biggest one was the Bowie State Education Association – where I started as a general member," reflected Nadia Constanza, Bowie State University alumnae and second grade teacher at Cool Springs Elementary school in Adelphi, Md.
"Professor Smith believed in me so much that she encouraged me to enter into leadership roles," Constanza said."
'The thing I remember most is that every time I've come back home to Bowie, no matter how much it has changed, the one thing that has been constant throughout the years has been Barbara J. Smith," offered Carolyn Moye, also a Bowie State alum and Smith's colleague on faculty in the College of Education.
BSU President Aminta Breaux, who attended the breakfast, said teaching legacies like the one embodied by Professor Smith is one of the many things she enjoys about representing BSU across the state and the nation.
Breaux reflected on Smith's immeasurable contribution to students and the life of the campus – serving as both an alum and a veteran educator with a lifetime of wisdom to share with her students.
And as for the honoree, Barbara Jean Smith?
Smith said she is appreciating every "flower" coming as a gift to the endowment in her name, and affirming words as the College of Education continues to work on future activities for the scholarship fund that will be endowed in her honor.
"I'm honored to have been blessed to touch the lives of thousands of future teachers, principals, entrepreneurs and other leaders who serve and will serve our country," Smith said.
The College of Education is two-thirds of the way to their goal of raising $50,000 in Smith's honor. "Thirty-eight thousand has been raised so far – and we just started a few months ago," exclaimed Long.
Muchiri said the team that organized the Legacy Breakfast for Smith in February is meeting this week to evaluate their efforts and determine next steps to reach and even exceed the original goal of $50,000 to honor the Prince George's county legend.
"A dedicated alumna, a legend and the 'Soul of BSU,' Professor Barbara Jean Smith has been an exceptional and passionate teacher, who has been committed to her alma mater, Bowie State University, for 50 years strong," Muchiri said in summary of the events honoring Smith.
Donations are still accepted via Barbara Jean Smith Endowed Scholarship: www.bowiestate.edu/give memo: Barbara Jean Smith Legacy Endowment
The post 50K for 50 Years – Bowie State University colleagues and students honor legacy of veteran educator appeared first on AFRO American Newspapers .