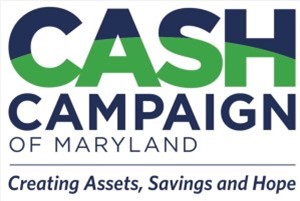 By Megan Sayles,
AFRO Business Writer,
msayles@afro.com
The Creating Assets, Savings and Hope (CASH) Campaign of Maryland is hosting its 16th Money Power Day on March 18 at the Baltimore Polytechnic Institute and Western High School campuses from 9 a.m. to 3 p.m.
This event is the region's largest, free financial education fair, helping attendees "boost their financial fitness," and it's the first time that it's returned since the COVID-19 pandemic.
It will feature workshops, more than 50 financial service exhibitors, credit counseling, financial planning and activities for children, and CASH Campaign of Maryland ensures that every service provided is vetted and trustworthy.
"This event has something for everyone. Whether you're thinking about college, future homeownership, a business idea or retirement, we've got experts for it," said Sara Johnson, co-founder and chief operating officer of the CASH Campaign of Maryland. "This event really has something for everyone along the spectrum, and we try to keep it fun."
The CASH Campaign of Maryland has been serving the Baltimore metropolitan area for 22 years, and its mission is to improve financial security for low- to moderate-income families.
Through its programming, the organization offers free tax preparation, financial education and financial coaching. It also helps nonprofits and government agencies build capacity to support financial empowerment, and works with lawmakers to create policy that levels Maryland's financial playing field.
Money Power Day is the CASH Campaign of Maryland's signature event. Its workshops will cover topics, including saving for college, growing a business, planning for retirement and preparing a will.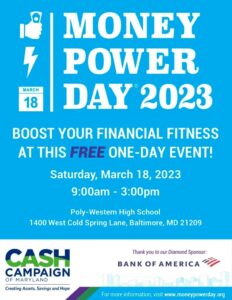 "We want to make sure that all communities, but particularly communities of color, have access to this information," said Johnson.
"We recognize the legacy of disinvestment and systemic racialized issues that have been happening in our economy since the beginning. Education is one way to address that."
Aside from workshops, attendees will also have access to a credit cafe to obtain a free credit report and credit advice, a small business zone with entrepreneurship experts, a college and career zone for higher education and financial aid preparation and a kids zone with engaging, financially-focused activities.
The event will also feature a food distribution led by Food Rescue Baltimore and a "Pitch Your Side Hustle" contest, in which the first place and second place winners will be awarded $500 and $250 respectively.
"People who come to Money Power Day leave with hope. They leave feeling like they got their questions answered, they leave with business cards and brochures, and they leave with an understanding of what their next steps are," said Johnson.
"They weren't sitting on hold forever or in some terrible feedback loop, they got a chance to meet with people one on one. They leave with ideas, and they leave with hope."
Megan Sayles is a Report for America Corps member. 
The post CASH Campaign of Maryland to host 16th Money Power Day, the region's largest, free financial education event appeared first on AFRO American Newspapers .
This article originally appeared in The Afro.