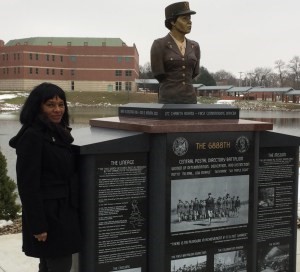 By Frances "Toni" Draper,
AFRO Publisher
On March 15, I had the distinct honor of testifying in favor of Maryland House Bill 0370, sponsored by Delegate Mike Rogers (D- Anne Arundel County) and others. The bill, if passed and signed, will require Maryland's governor "annually to proclaim March 9 as 6888th Central Postal Directory Battalion Day."
Currently, Maryland has 16 official commemorative days, seven months and one week that are recognized in State law including Black History Month, Women's History Month, Negro Baseball League Day, Thurgood Marshall Day and Tuskegee Airmen Commemoration Day.
Testifying along with Delegate Rogers and me, were Janice Martin (daughter of 6888th member Indiana Hunt-Martin for whom a post office in Buffalo, N.Y. was recently named) and Col. (Ret.) Edna Cummings.
I could go on and on about the 6888th and their amazing service to the United States, especially during a time when Black women were marginalized and ignored.  I could spend hours writing about these 855 predominantly Black women who were stationed in Europe working three 24-hour shifts, seven days a week to sort 18 million letters addressed to U.S. troops scattered across Europe during World War II.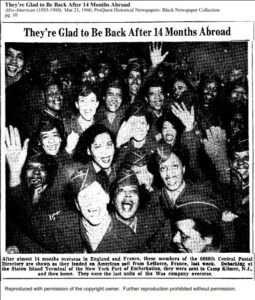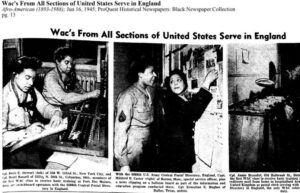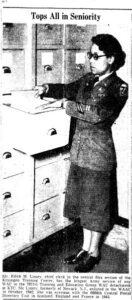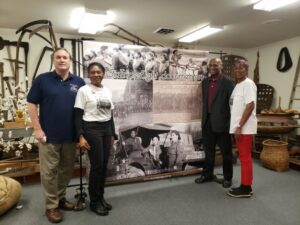 I could write about the three 6888th members who died there and were buried in Normandy in coffins made by French prisoners. I could write about the recent honors, their commanders Major Charity Adams Earley (the first Black woman to be an officer in the Women's Army Auxiliary Corps (later called WACS), Captains Mary F. Kearney and Bernice G. Henderson.
I could shout out the name of my aunt PFC Vashti Murphy Matthews who was a member of the 6888th –although I never heard her talk about her time in the Army– and I could certainly point out that if it hadn't been for the AFRO's extensive coverage (1945-1946) of these brave soldiers, the names and hometowns of many would not be known today.
Due to the tireless efforts of Col. (US Army Ret.) Edna Cummings and others like Master Sergeant (Ret.) Elizabeth Anne Helm-Frazier, more people are learning about this brave, dedicated pioneering battalion.
According to Womenofthe6888th.org, "the 6888th was not an All-Black or an all African-American unit.  The 6888 Central Postal Directory Battalion was a multi-ethnic unit that was predominantly Black with at least one Puerto Rican and one Mexican woman.  This is a change from what we have been writing and saying for years. Recently, the committee became aware of this mistake.  The second oldest 6888th veteran still with us is 102-year-old PFC Crescencia Garcia.  PFC Garcia is Puerto Rican and knew others in the unit."
A native of St. Petersburg, Fla., MSG (Ret.) Helm-Frazier joined the Army for its educational and job opportunities. Throughout her 25-year career, she held a variety of assignments and high-profile positions. Her bio notes that she was an exceptional soldier, role model, and was frequently commended for her outstanding leadership, recruitment and retention skills. After her retirement in 2006, she continued her service to military women, veterans and community activities.
Helm-Frazier, along with Col. Cummings, helped raise funds to build a monument at Fort Leavenworth, Kan. to recognize the 6888th's exemplary service in WWII.
"I started on the 6888th Monument team which was the dream of Commander Carlton G. Philpot, US Navy (Ret.)," she said.  "Our goal was to raise money for the monument and get the word out about the 6888th and their mission to reduce the two-year backlog of mail because mail was the third most important thing to a service member: first, pay; second, food and shelter, and third, mail!" Additionally, she served as a producer of the critically acclaimed documentary, "No Mail, Low Morale," which tells the 6888th Postal Directory Battalion story.
Then there's Col (Ret.) Edna Cummings – an amazing community servant and role model extraordinaire.
"In 2018, Lizz (MSG Helm-Frazier) and I began a journey to raise funds for the 6888th Monument at Ft. Leavenworth, Kan. to honor these unsung WWII Sheroes," said Cummings. "Little did we know that the monument would launch a movement of international recognitions, an award-winning documentary, a Blue Plaque at the King Edward's School in Birmingham, England,  a Congressional Gold Medal, a post office renaming in Buffalo, N.Y., a military base renaming at Ft. Lee, Va. (after LTG Arthur Gregg and Major Charity Adams), a Broadway-bound musical by Executive Producer Blair Underwood, a Netflix movie, and many other state and local proclamations.  I am grateful to be a part of sharing the Six Triple Eight's history with the world."
This month, as the AFRO celebrates Black women heroes, Col. Edna Cummings, we are grateful to you, Lizz and so many other outstanding women leaders who have served well and continue to serve. You are role models extraordinaire, as are the women we are featuring in this month's special edition. Kudos to you for staying on the battlefield! We are looking forward to celebrating 6888th Day in Maryland on March 9, 2024, and every year thereafter.  And, who knows, by then there may be 6888th days throughout the nation!
We also salute the past and current women of the AFRO, including those who are not of African descent. You are appreciated for all that you do every day to help us tell our story—including this beautiful special edition saluting Black women young and old, women from all walks of life, women who do what they do because it's the right thing to do.
The post AFRO salute: the women behind the 6888th keep pushing appeared first on AFRO American Newspapers .
This article originally appeared in The Afro.