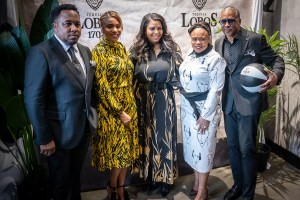 By Lenora Howze,
Special to the AFRO
On Feb. 23, the co-owners of Baltimore's Blk Swan were proud to honor Morgan State University alum Dia Simms at the restaurant's first Black excellence recognition ceremony. Outkrowd Restaurant Group's co-owners, Chris Simon and Jada McCray, say that Blk Swan derives its name from the Black Swan Theory, "an event that comes as a surprise and has a major impact."
"We believe there are some among us that represent that theory and Blk Swan would like to recognize those individuals," said the co-owners.
Dia Simms, a New York native, graduated from Morgan State University in the late 90s and has had a prolific career. As vice president of Combs Wine and Spirits, Simms was instrumental in the acquisition of Deleon Tequila as well as expanding the growth of the Ciroc brand. Simms went on to become chief executive officer of Lobos 1707 Tequila and Mezcal, two prominent liquor brands she launched alongside NBA Legend Lebron James.
The event also featured the unveiling of a portrait of Dia Simms, which will be a reminder of her diligent work and significant contributions to the spirits industry.
The post Blk Swan honors Morgan State University alum Dia Simms appeared first on AFRO American Newspapers .
This article originally appeared in The Afro.