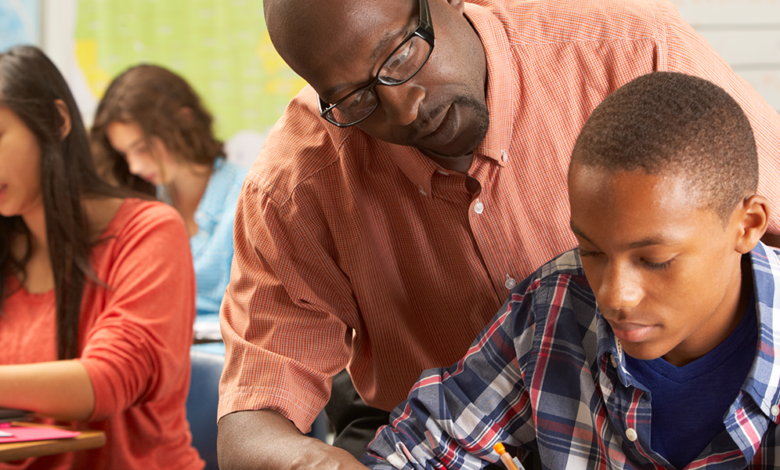 By Anna Maria Della Costa | The Charlotte Observer
Tyler Adams knew before he stepped into a Charlotte classroom nearly three years ago that he was in the minority.
Across the country at the time, only 2% of Black men were in education, Adams said, and that fact fueled his passion to become a teacher.
"It caused me to realize that representation is important," Adams said, "and that students need to see themselves and their lived experiences represented in the classroom."
Adams, who teaches fifth-grade literacy at Newell Elementary School, is one of 10 male teachers from Charlotte-Mecklenburg Schools participating in a pilot program the district embarked on this fall with Profound Gentlemen, a national organization focused on retaining male educators of color.
The organization, founded in 2014 by Jason Terrell and Mario Jovan Shaw, two former CMS educators, provides teachers access to nearly 40 hours of professional development resources to enhance their social and emotional wellness, and ultimately their educational practice. Educators have individual development plans and receive one-on-one coaching.
"This program is important for CMS because it is not often that you see men of color in the classroom, and a program like this allows us to come together and share our classroom experiences," Adams said.
BUILDING DIVERSE, EQUITABLE COMMUNITIES
Most students in CMS _ 62.5% _ are Black or Latino, yet the district's teachers and leadership are predominantly white. Superintendent Earnest Winston told the Observer the district has been strategically recruiting educators of color in an effort to improve student outcomes.
"People want to see people who like themselves," Winston said. "We want our students to aspire to be educators. It's so important that we start that cycle."
As of October, close to 29% of teachers in CMS are Black and 2% are Latino. Male teachers make up around 20% overall. Christine Pejot, the district's chief human resources officer, said there are 668 Black male teachers in CMS and 52 Hispanic male teachers, but records may be incomplete as race and ethnicity are self-reported by employees when they apply.
Nationally, Adams said, less than 5% of teachers are male educators of color, and it's even less in CMS.
In contrast, according to the 2020-21 CMS Diversity Report, 36.7% of students are Black; 27.2% are Hispanic; 25.8% are white and 7.3% are Asian.
"A study from Johns Hopkins University found that when teachers of color are present in the classroom, there are greater opportunities for students of color to move through higher education _ dismantling the cradle to prison pipeline," said Dominique Stone-Maddix, a senior innovation partner for Profound Gentlemen. Stone-Maddix was a CMS educator from 2012 until 2017, when he joined the Profound Gentlemen staff.
"Profound Gentlemen's efforts to retain male educators of color in education address the need to build diverse, equitable education communities staffed with leaders who reflect their identity."
RETAINING MALE EDUCATORS OF COLOR
While Profound Gentlemen has served as a community partner to CMS since 2016, an official partnership will help the district meet its retention goals. Its network consists of more than 600 male educators of color across the nation, which helps foster relationships and support, Stone-Maddix said.
CMS teacher retention in 2019-20 was 89.9%, which was higher than the national average of 84% and state average of 87.53%. That translates to nearly 9 out of every 10 teachers returning for the next school year. In CMS, Black teachers had a slightly lower retention than others.
Stone-Maddix said male educators of color are five times more likely to leave the education profession than other demographics.
Pejot said the partnership will include peer check-ins, shadowing opportunities, conferences and retreats for the 10 CMS educators in the pilot with Profound Gentlemen.
Amy Sullivan, the director of talent acquisition for the district, said CMS and Profound Gentlemen have shared resources in the past and attended the district's career fairs to recruit men.
"This is the first time we have funded the educators to participate," Sullivan said. "We do hope that this partnership will aid in our retention of males and that we will be able to grow future cohorts as a result."