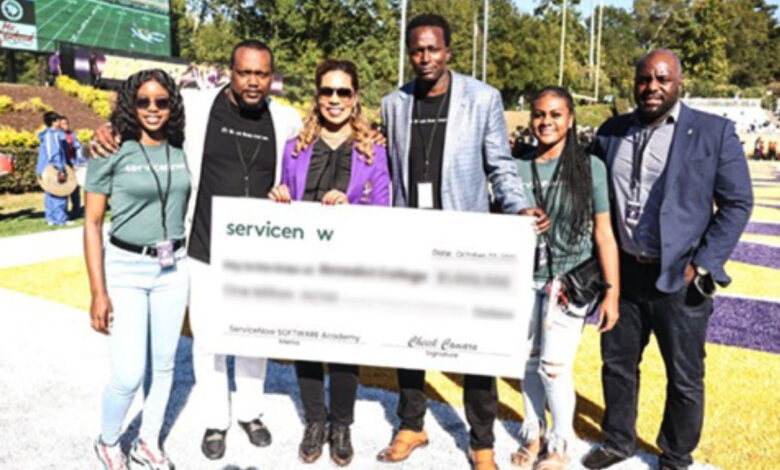 The founders of HBCU Connect have partnered with ServiceNow, a multi-billion-dollar software company known for its cloud computing platform, to launch a 6-week, part-time Virtual Learning Experience + Hackathon. The opportunity is for current Black and Latinx students and recent graduates (all majors, and up to 2 years post-graduation).
The one-week, team-based hackathon will challenge students to solve a real-world problem that focuses on global issues like Healthcare, Education, Digital Literacy, and more. Participants will have the chance to compete for a chance to win $40,000 as the first-place winner and $20,000 as the runner-up.
As the largest HBCU Hackathon competition ever, it will be an excellent opportunity for them to network, boost their resume, learn an in-demand skill set, and compete for cash prize awards.
How to sign up
Two steps are involved. First, all who are interested are required to register to attend an online kickoff event and info session.
During this info session, which will be hosted by ServiceNow and HBCU Connect, attendees will learn the complete details of the Hackathon and can get all their questions answered. During the session, they will also be able to sign up for the Hackathon live during the event!
The event will be held online via Zoom on Tuesday, January 11th, 2022 at 3pm PST/ 6pm EST.
Here are the details to connect:
Join Zoom Meeting: us02web.zoom.us/j/85095474941
Join via Phone: +13126266799,,85095474941#
Participants in the Hackathon will also have the opportunity to land internships and full-time jobs working for ServiceNow. The purpose is to expose diverse students and recent grads to ServiceNow, new technologies, and new people. Again, the first step for all participants is to register for the online info session.
— Black News
The post Black College Students Have Opportunity to Win K in HBCU Hackathon first appeared on The Florida Star | The Georgia Star.