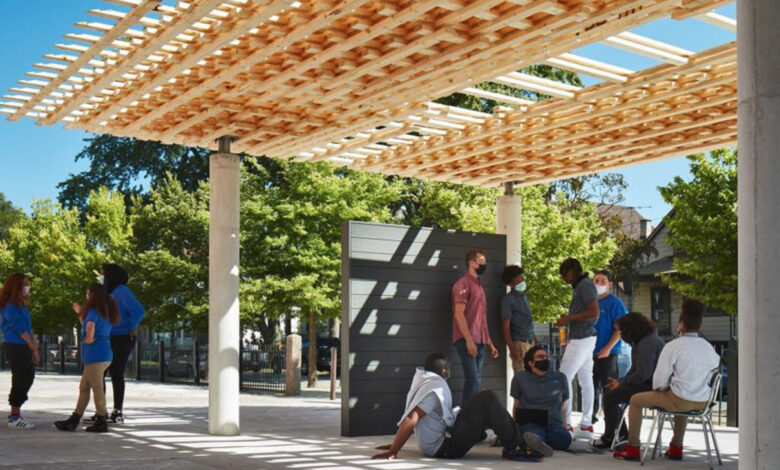 Chicago Defender
Epic Academy High School was the recipient of a sustainable outdoor learning lab. The Skidmore, Owens and Merrill (SOM) design team created a robotically fabricated timber pavilion (SPLAM: Spatial Laminated Timber) for Chicago's EPIC Academy south side campus as part of the Chicago Architecture Biennial.  The new pavilion is a permanent addition to EPIC Academy's campus, one of Chicago's most innovative high schools.
SPLAM is a full-scale prototype of an optimized timber structure that reimagines the way SOM designs and build sustainably. A SPLAM was designed and constructed by SOM and the University of Michigan Taubman College of Architecture and Urban Planning for this year's Chicago Architecture Biennial.
The pavilion hosted a series of performances during the Biennial and functioned as an outdoor classroom and performance venue afterwards, contributing to the future of post-pandemic teaching and learning. The pavilion was designed and constructed in partnership with Autodesk, McHugh Construction, Gremley & Biedermann, and REX Engineering Group.
The structure was unveiled this month on EPIC Academy's campus at 8255 S Houston Ave, Chicago, IL 60617. LeeAndra Khan, Executive Director, Andromeda Bellamy, Principal at Epic Academy and students were among the attendees at the event.
The post EPIC Academy H.S. Selected as Site for Chicago Architecture Biennial appeared first on Chicago Defender.