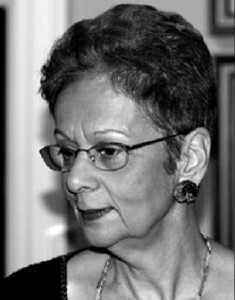 By Sean Yoes,
Special to the AFRO
Diana L. Gibson passed away on March 15, 2023 of a heart attack at her home. She was 82 years old.
Diana Rita Lewis was born to Theodore and Mamie Lewis in Baltimore on September 4, 1940. She was their only child. Diana attended St. Pius Elementary School and Booker T. Washington Jr. High School, before graduating from Frederick Douglass High School in 1957.
Diana graduated with honors from Towson State Teachers College (now Towson University), with a Bachelor of Science degree in 1961. In 1966, she obtained her Master of Education degree from Johns Hopkins University.
Diana started her teaching career in the Baltimore City School System at Windsor Hills Elementary School.  She taught third, fourth and fifth graders. Later in her career, she taught at Harford Heights Elementary School in East Baltimore. Diana taught from 1961 to 1986. Her legacy extends to the hundreds and maybe thousands of students she inspired and educated.
On July 7, 1971, Diana met a young lawyer and political strategist named Larry Gibson, a member of the Baltimore City Public School Board, when he spoke to   her post graduate class of teachers at Towson State on July 7, 1971. After Gibson's presentation was over, he walked over to Diana and her friend, Dorothy Thomas, and asked if he could walk them to their cars.  Larry asked Diana to work on a citywide political campaign. Of course, he had to get her phone number in the process. The two were married July 7, 1973, two years to the day of that first meeting.
After retiring from teaching, Diana embarked upon a second career supporting three of the most important political leaders in Baltimore's history.  She was the business manager for the 1987 mayoral campaign of Kurt L. Schmoke, Baltimore's first elected Black mayor.  She was the business manager for the 1987 the mayoral campaign of Kurt L. Schmoke, Baltimore's first elected Black mayor.  Following her time at City Hall, Diana was a staff assistant to the late 7th District Congressman Elijah Cummings. Diana continued to work in that capacity for 7th District Congressman Kweisi Mfume, until her death.
Diana and Larry traveled the world visiting more than 70 countries including: Kenya, France, Ghana, China, Australia, Germany, Japan, Portugal, Italy, Venezuela, Uganda, Jamaica, India, England, United Arab Emirates, St. Lucia and Iceland.
In 1975, Diana and Larry were blessed with the birth of their son Steven Larry Gibson. He accompanied them on many globetrotting adventures.
For nearly 50 years, Diana and Larry were inseparable.  To those who knew her, "When you saw Diana you saw Larry, even when they were not physically in the same space."
Diana leaves to mourn her husband, Larry, her son, Steven Larry Gibson, the chief of Cardiac Anesthesiology at Walter Reed Military Hospital, daughter-in-law Cicely Gibson, grandson Gavin Larry Gibson and a myriad of friends, colleagues, and former students.
Diana and Larry saw the world and had a "love affair " that lasted for 50 years.
A viewing for Diana Gibson will take place on March 24 from 4 p.m.- 7 p.m. inside of the Vaughn Greene Funeral Home, located at 4905 York Road.
The family hour and wake will be held from 10 a.m to 11 a.m. on March 25 at the Cathedral of Mary Our Queen, 5200 N. Charles Street. Remembrances from family, friends and elected officials will take place from 11 a.m. to 11:30 a.m., with the funeral service beginning immediately after at 11:30 a.m.
The post Diana L. Gibson dies at 82 years old appeared first on AFRO American Newspapers .
This article originally appeared in The Afro.