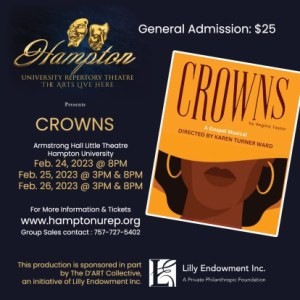 By Black PR Wire
Hampton, Va. – Hampton University has again distinguished itself in establishing the Hampton University Repertory Theatre to provide professional theatre offerings for the University and Hampton Roads Community.
"One of our goals is to present engaging, thought-provoking, professional theatre for the campus and community," says Dr. Karen Turner Ward, artistic director for the Hampton University Repertory Theatre.  Ward is the Old Dominion Endowed Professor of Fine and Performing Arts at Hampton University and has more than 30 years of experience in writing, directing, acting, and producing in theatre.
Establishing a professional theatre on an HBCU campus provides a platform for professional theatre practitioners, playwrights, designers, directors, and actors to showcase world premieres and set the stage for theatergoers to enjoy many of their all-time favorites.  The Hampton University Repertory has the support of an impressive advisory council comprised of Hampton University award-winning theatre and media alums, industry professionals, and successful business advisors — all committed to the University and its distinguished arts legacy.
"On behalf of everyone on the advisory council board of the Hampton University Repertory Theatre, we're honored to be a part of this historic endeavor of being the first and only repertory theatre housed on a historically Black university campus. We are all examples of why 'The Arts Live Here,' and we celebrate the commitment that President Darrell K. Williams, the students, deans, faculty, and staff have to making it a great success," said Richard Montgomery, advisory council chairman, 1979 Hampton alum, filmmaker, and imaginer at RixStar Studios.
"I credit my experiences in the Little Theatre on campus as the catalyst for my career in Hollywood. My dream began in the costume shop on the second floor of Armstrong Hall and took me to the Hollywood Walk of Fame. The Hampton University Repertory Theatre can provide that same inspiration for students who want to pursue a career in the arts, TV, and film industries. I've also established an endowed scholarship to assist students with financial aid to help make their dreams come true," said Ruth E. Carter, 1982 Hampton Alumna, Oscar-award-winning costume designer, and Hollywood Walk of Fame Honoree.
"I know that the theatre department at Hampton gave me the education for life that has guided me on my 37-year career in the entertainment industry. First as an actor in major Hollywood feature films, then as a producer making independent feature films, and now as a producer and development executive at a major cable network. I know the Hampton Repertory Theater will provide students with the same exposure and experience that helped me succeed. I look forward to working with the advisory council and being a resource for its continued development," says Raye Dowell, 1982 Hampton alum, BET Networks.
"I think it's great exposure for the school, being the first HBCU to be able to operate with a repertory theater company and mainly to provide the residents of Virginia the opportunity to work in professional theater with people that have been on Broadway and have been on television," said advisory council member Kris Coleman, 1998 Hampton alum, Broadway and television actor.
The staff has an impressive lineup of theatre offerings that will take center stage beginning in the spring of 2023 and including star-studded casts. Not only will Hampton Roads audiences benefit from the establishment of the Hampton University Repertory, but Hampton students will also have the opportunity to view professional theatre on their own campus. An additional benefit will be students' opportunity to work alongside professional theatre practitioners as repertory interns.
This opportunity to house a professional theatre company on the Hampton University campus and expose our students to theatre industry icons personifies President Darrell K. Williams' commitment to deliver The #1 Student Experience in America.
The post PRESS ROOM: Hampton University is Proud to Announce the Hampton University Repertory Theatre: The First and Only Professional Theatre Company Housed at an HBCU appeared first on AFRO American Newspapers .
This article originally appeared in The Afro.