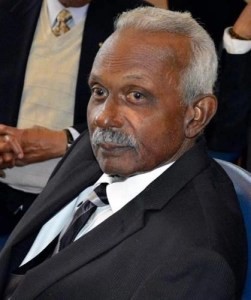 By Nicole D. Batey,
Special to the AFRO
Family members of retired track and field Coach Freddie Lee Hendricks recently announced that  he completed his final race on Jan. 27, 2023.
Hendricks, who taught physical education at Mergenthaler Vocational Technical (Mervo) High School for 36 years, leading the high school's team to numerous city, state, and regional championships, died of pulmonary kidney failure at a Gilchrist hospice center in Baltimore.
Hendricks was born the eldest of eight children to Annie Belle and Otis Lee Hendricks on Sept. 26, 1941, in Henderson, N.C. and always had a passion for sports. His family moved to Baltimore in 1952, where his mother was a homemaker and his father worked at Bethlehem Steel.
As a student-athlete at Carver Vocational Technical High School, he participated in wrestling, football, and golf. Upon graduation, Hendricks attended then Morgan State College, where he received his Bachelor of Science degree in physical education in 1965. Also, Hendricks served in the U.S. Army, as a physical activity specialist and director of the Officer's Health Club. He returned to Morgan State University for two more Master's degrees in Physical Education and in Administration and Supervisory.
Hendricks came to Mervo in 1972 and retired from the school in 2004. During his tenure there, he received numerous awards, including "Baltimore Teacher of the Year" and "Baltimore Coach of the Year." Despite not having a formal track at the school, Hendricks developed creative ways in training his teams—running around Lake Montebello and up and down hills near Mervo. He was also known to have students jumping hurdles in the school hallway. The sports complex was later built and named in honor of Hendricks, with a mural of him installed inside of the gym.
Nicknamed "Butter" for his smoothness, Hendricks had a strong work ethic and was firm, but supportive throughout his leadership. He pushed his students to pursue excellence and believe in themselves. Future Olympians, world champions, notable city leaders like Mayor Brandon Scott, educators, business leaders, and others were trained under his tutelage and remember him with fondness.
In an Instagram post, Mayor Scott reflected on his own personal relationship with his former coach.
"You believed in us and what we could achieve when we weren't yet capable of understanding our potential," he said. "You showed me how to be a leader and pushed me into leadership roles even when I was hesitant."
It amazes Sean Hendricks how his dad managed to be ever present and supportive of him in all his educational and sports activities, as well as other family members, and still be there for so many others.
"My dad was the leader of our family, not just immediate, but extended as well, being there for us. It is overwhelming how many lives he has touched and influenced," said Sean Hendricks. "My dad has built a legacy of doing what he could to help others and I hope to carry that on. He was just extraordinary!"
Hendricks was preceded in death by his parents, Annie B. and Otis L. Hendricks; his wife, Joan; three brothers, Clarence, Larry, and Carlton; and one sister, Effie.
He is survived by his son, Sean; two daughters, Kim and Shannon; two grandchildren, Ashley and Brittany, as well as his life partner, Pam Crawford; three brothers, James, George, and Jerome; one sister, Joan, and other family members, mentees and friends.
A funeral for Freddie Hendricks will be held on Feb. 13 at 9:30 a.m. inside of the Carl J. Murphy Fine Arts Center on the campus of Morgan State University.
The post Extraordinary and influential former track coach of Mervo, Freddie Lee Hendricks, dies at 81 appeared first on AFRO American Newspapers .
This article originally appeared in The Afro.