By Deborah Bailey,
Contributing Editor
Marion Turner Stubbs Thomas sought a place where her own children could bond with other Black children in Philadelphia's rapidly expanding, early twentieth century, Black middle class community.
So in 1938, Thomas did what any Black mother would do – she invited 20 women to her home for a strategy session. The mothers started a social network for their children and in less than 10 years Jack and Jill of America had spread to chapters in 10 cities across the Eastern seaboard, mid-Atlantic, Mid-west, and the South.
"We started out as a group of friends who wanted to have opportunities for their children to connect. We have grown into more than just a social club," said Jack and Jill of America National President, Kornisha McGill Brown.
Many familiar with the Jack and Jill club of past years have vivid memories of ornate debutante ceremonies and other highbrow social activities. While these cultural events are still part of the Jack and Jill program, the organization has expanded its scope. Today, the organization offers leadership training and educational programming. It also addresses the recreational and health needs of Black children and their families.
This year, Jack and Jill of America celebrates 85 years of service with the grand opening of a newly remodeled national headquarters near DuPont Circle in Washington, D.C. Jack and Jill's 262 chapters and more than 70,000 family members represent communities across the United States from Anchorage, Alaska to Miami, Fla.
"Our property was purchased 20 years ago. We realized that it was important to be in Washington, D.C. – the city where legislation happens," said McGill Brown. "When it comes to legislation we know that we can go over and advocate for our children.  We have been bringing our teens every other year for a national legislative summit so they can learn to be their own advocates."
Youth involved in the Jack and Jill of America program of today can be found meeting with U.S. senators and Congressional representatives on Capitol Hill, advocating for measures that support young people in communities across the U.S.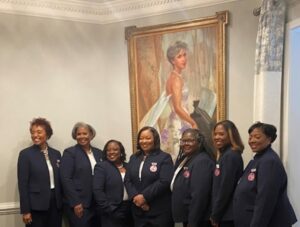 The organization will host its bi-annual "On the Hill Summit" gathering members from hundreds of branches across the nation to meet on Capitol Hill with legislators.  Legislators, lawyers, representatives from the media, political strategists and advocates from the D.C., Maryland and Virginia area and beyond will support the student delegates in workshops and town hall meetings during the week of activities.
Jack and Jill of America's newest member, Mayor Muriel Bowser, will welcome youth advocates to the Nation's Capital. "Everyone realizes the impact of Jack and Jill. We're grateful to be in Washington, D.C. and have our national headquarters here," McGill Brown added.
Today's local Jack and Jill chapter members are leaders in their communities on issues as varied as combating food insecurity, developing alternatives to homelessness, disaster relief and recovery and advancing literacy education.
Jack and Jill of America and its affiliates also collaborate with a wide range of national organizations to facilitate progress on issues impacting Black Americans nationwide.  The American Red Cross, Children's Defense Fund, INROADS,  the National CARES Mentoring Movement and historically Black colleges and universities across the nation are among the scores of organizations to tout long-standing relationships Jack and Jill of America.
In 2023 the organization will celebrate its sixtieth year working in collaboration with March of Dimes, supporting Black maternal health, both through philanthropy and advocacy.
McGill Brown recently joined Jack and Jill members from across America in front of the newly remodeled national headquarters and reflected on the significance of the building for future generations.
"We are here for the sustainability of this organization ensuring it will remain for these babies," McGill Brown said before cutting the pink ribbon and walking up the stairs to the elegant brownstone on 17th street. "When they grow up and have their families, [they] can bring them back here to know where home is in Jack and Jill."
The post Black Philanthropic powerhouse Jack and Jill of America celebrates 85 years of fellowship and service appeared first on AFRO American Newspapers .
This article originally appeared in The Afro.