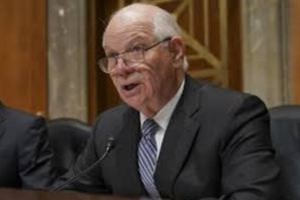 WASHINGTON – U.S. Senators Ben Cardin (D-Md.) and Steven Daines (R-Mont.), both members of the Senate Finance Committee, today introduced legislation that will permanently extend the New Markets Tax Credit (NMTC), which has created jobs and driven investment in economically distressed neighborhoods. The New Markets Tax Credit Extension Act will permanently authorize a federal tax credit for businesses or economic development projects in areas with poverty rates of at least 20 percent, or median incomes at or below 80 percent of the area median.
"In Maryland and across the country, the New Markets Tax Credit has demonstrated its strength in encouraging a diverse range of infrastructure and community development efforts in low-income neighborhoods and communities of color. New Markets Tax Credits provide a strategic tool for the transformation of historically under-invested communities.," said Senator Cardin. "I thank Senator Daines and all of our cosponsors for joining this effort to make permanent this tax credit that will continue to create jobs and stimulate our economy in communities nationwide."
"The New Markets Tax Credit is a win-win-win – it has been an invaluable tool for encouraging investment into our communities, creating good-paying jobs in Montana, and spurring growth in local economies across the nation. It's time we make a permanent commitment to helping our Montana communities thrive and economies grow," Senator Daines said.
In addition to making the New Markets Tax Credit (NMTC) program permanent at a $5 billion annual allocation level, the legislation indexes future allocations to inflation and exempts NMTC investments from the Alternative Minimum Tax. In the 2020 year-end bill, NMTC was extended for five years at the increased allocation of $5 billion, expiring at the end of 2025.
The New Markets Tax Credit Extension Act is cosponsored by U.S. Senators Chuck Schumer (N.Y.), Bill Cassidy (R-La.), Maria Cantwell (Wash.), Tim Scott (S.C.), Robert Menendez (D-N.J.) and Marsha Blackburn (R-Tenn.).
Following are a few examples of projects that have benefited from the NMTC:
North Avenue Educational Hub – This former dance club has been transformed into a nonprofit office space for 2 organizations focused on youth education. The rehabilitation project created 57 construction jobs, and currently employs 62 full-time equivalent employees. During the school year, upwards of 50 children participate in the Code for Schools program onsite. The program aims to expand access to computer science for underserved youth.
The Justice Thurgood Marshall Center – Formerly known as The Henry Highland Garnet School, elementary school of Justice Thurgood Marshall, the new Justice Thurgood Marshall Center will include a museum, gallery, event space, and the Baltimore field office of the Maryland Legislative Office of the Black Caucus. The center will also house the University of Maryland's Judge Alexander Williams, Jr. Center for Law, Justice, and Ethics, which will provide legal and restorative justice services to Baltimore residents.
Independent Record – This 22,238 sq. ft. former home of Helena's local newspaper will be transformed to include commercial office and retail space, an architecture firm, a brewery, restaurant, and coffee shop.  The project is estimated to make 36 construction jobs and 43 full-time equivalent positions. The renovated building will have two floors and a rooftop deck.
Fort Peck Wellness Center – This new health clinic and recreation center aims to increase the life expectancy for tribal members by providing various medical, dental, and therapy services. The 51,000 square foot center has created 200 construction jobs and is expected to create 70 full-time jobs. There will be an onsite gym, pool, childcare center, and space for cultural programs.
The post Cardin, Daines Introduce Permanent Reauthorization for Housing Tax Credit that has Promoted Growth in Underserved Communities appeared first on AFRO American Newspapers .
This article originally appeared in The Afro.