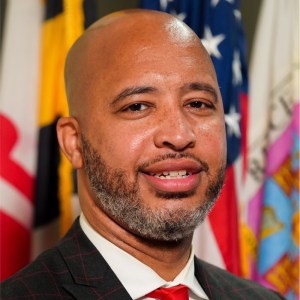 By Reginald Williams,
Special to the AFRO
When Terrell Arrington was trying to steer an academic path through Prince George's Community College in 2009, the instructor whose guidance he valued most was Brian Hamlin, he said.
Hamlin, known to the young men he mentors as "Heat," was able to get the nearly seven-foot-tall 19 year old to focus on his goals, excluding doubters.
"Heat has an uncanny way of asking the right questions based on the information he knows about you. In one of our earliest conversations, he suggested I read 'Think and Grow Rich' by Napoleon Hill. I was 19. That moment set the foundation for the path I still walk today," Arrington said.
Now a budding fashion entrepreneur, Arrington is one of the first graduates of the Diverse Male Student Initiative, a PGCC program aimed at male students in a two-year program of instruction and guidance.
Hamlin is one of the founders of the program that now operates under a $3.7 million grant that directs an average of 150 male students a year.
Hamlin guides each student individually, pushing them on academics, prodding them to wring the most out of their abilities, Arrington said.
Established in 2009 with two students, the Diverse Male Student Initiative (DSMI) claims a retention rate of 85 percent and an 89 percent graduation rate.
Arrington went on to the Academy of Art, a fashion and design school in San Francisco, Calif.,  and recently launched Mouton Noir, a menswear brand based in New York City.
"I have a developing second-hand marketplace app that allows people 6-foot-3 inches to 7-foot-3 inches to rent and purchase clothes and accessories from current and former NBA players' luxury closets at a discounted price. Before these achievements took shape, they were first conversations with Heat," Arrington told the AFRO.
DMSI is part of the growing number of academic programs aimed at bolstering education for young men with Black male educators, according to education observers who note Department of Education statistics that men comprise only 25.7 per cent of public school teachers.
Curtis Valentine, school board member at Prince George's County, co-director at Reinventing America's Schools Project at Progressive Policy Institute, and co-founder of Male Educator Network of Prince George's County Public Schools (MENofPGCPS), said he is on a mission to impact the future generation of students, (boys and girls) by reimagining the profession of teaching for the next generation of educators.
"For many, teaching is a woman's profession, and the over-feminization of teaching has led to only two of the teachers in America being Black Men," Real Men Teach is a movement to reimagine the teaching profession in a new way centering a diverse collection of Black Men and normalizing images of men in education in their own light."
Real Men Teach, the largest organization of Black men in education, is an initiative that grew out of MENofPGCPS. The movement, as defined by Valentine, allows Black males to play a significant role in education, he said.
Hamlin said his teaching methods center around fostering powerful relationships with the student while a plan to guide them to where they want to be.
"I would have conversations with Brian and didn't initially realize to the degree he was filling my spirit with positive reinforcement," Arrington said. "He would break you down and build you back up. After having the privilege of being under Brian's tutelage for two years, I can honestly say, I'm living out all my dreams." Reginald Williams, the author of "A Marginalized Voice: Devalued, Dismissed, Disenfranchised & Demonized" writes on Black men and Holistic Health concerns. Please email bookreggie@reginaldwilliams.org or visit amvonlinestore.com for more information.
Help us Continue to tell OUR Story and join the AFRO family as a member –subscribers are now members!  Join here! 
The post Black men making a difference as mentors to young male students appeared first on AFRO American Newspapers .
This article originally appeared in The Afro.