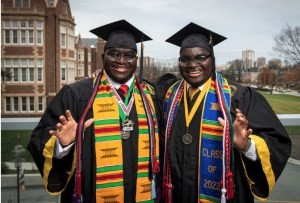 By AFRO Staff
Rasul and Malachi Wright know how to bring in a new year.
The twin brothers, who closed out 2022 by walking across the Towson University commencement stage to receive their undergraduate degrees, are now stepping into 2023 with vision and purpose.
"Only nine months ago, I suffered significant unforeseen complications during a routine inguinal hernia surgery that resulted in me learning to stand, walk, and run again," said Malachi Wright. "This was one of the most challenging moments in my life. The memories I keep in my metaphorical 'front pocket' of me persevering through previous challenges motivated me to get back to my optimal health."
The College Park, Md. natives, now 22, are just two of the roughly 2,200 graduates who were awarded bachelor degrees ceremony last month, but it wasn't their first stop in higher education.
On scholarship, they first earned associate degrees at Prince George's County Community College. Next came full-ride scholarships at Towson University.
The two have overcome every obstacle thrown at them. And they did more than just survive– they thrived. Rasul Wright says that the strength of their ancestors gave them energy to keep moving towards their goal.
"There have been many moments in my life where I have thought about throwing in the towel and quitting, but whenever I am feeling unmotivated or wanting to forfeit to the pressures of life, I remind myself that if my ancestors would quit, I wouldn't be here today," said Rasul. "If my ancestors, who were brought to America during the transatlantic slave trade and begrudgingly served in South Carolina would've quit, I would not be able to represent their legacy today."
"Those who have come before me motivate me to not succumb to the pressures of life," he continued. "Moreover, I am empowered by reflecting on my twin brother Malachi and the many nights that we sat in our car broke down on the side of the road talking about our dreams!"
Rasul said that he has also drawn strength from his twin.
"We empower each other and push each other to be successful in all avenues of life," he said.
Director of Competitive Fellowships and Awards Mary Sajini Devadasa, a Towson associate professor, worked closely with Rasul during his matriculation at the university. She commented on how she watched Rasul Wright take on leadership roles both on and off the Baltimore County campus.
"Rasul is a strong academic, passionate leader, a preacher and is born to be an ambassador with his code-switching training for protecting human rights. Sometimes it takes people a lifetime to find their passion and purpose, but Rasul was born with the mind to serve others," said Devadasa.
"Rasul is born to lead. He is an ordained pastor of a Baptist church in Washington, D.C. with 6,000 congregants and teaches in a seminary," she said.
She added that he is a leader of several academic honors societies on campus and has served as president and founding executive member for Omicron Delta Kappa in addition to being the first black male president of Phi Alpha Theta, a law fraternity.
Devadas said she has no doubt that Rasul is on his way to greatness.
"I salute his achievements and his will to be a change agent and bring about educational reform for the betterment of humanity," she said. "He is on his way to empowering citizens in marginalized societies through education."
The two are a long way from their jobs at BJ's, where they worked right after graduating from high school. Now, the twin brothers have started a scholarship for other students.
Rasul will be attending law school, while brother Malachi will be learning the finer points of delivering quality care at dental school. The university has reported that both have already received acceptance letters from Ivy League schools.
Towson University Biology professor Erin Harberts said Malachi Wright demonstrates the necessary attitude to make change in the world.
"If you have ever been in a Zoom meeting with Malachi, you may see the quote 'Dreams do not work unless you do' in his background. In every aspect of his life Malachi truly embodies this statement," said Harberts. "Whether he is setting up in the science building early in the morning to study or he is networking to bring groups of people together, he puts the work in to enact change. Malachi's focus is unmatched and with genuine passion he creates a conversation space where no problem seems insurmountable."
The two brothers are a shining example of Black excellence, but they say they couldn't have done it without the guidance of mentors and ancestors who have guided and gone before them.
"There have been many role models and mentors who have pushed me along the way, but I believe that those who have had the most direct impact on my life are Rev. Reginald Wright, the late Congressman John Lewis, my Grandmother Glenda Fay Wright, Rev. Willie F. Wilson, and my girlfriend Katelyn," said Rasul Wright. "All have inspired me to use my story to inspire others to be the change that they hope to see in the world."
Help us Continue to tell OUR Story and join the AFRO family as a member –subscribers are now members!  Join here!
The post Spotlight on Black excellence: twin brothers walk out their purpose with perseverance and grace appeared first on AFRO American Newspapers .
This article originally appeared in The Afro.