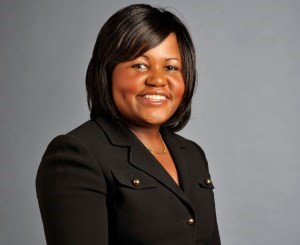 By JPMorgan Chase
We are excited to announce that Alicia Wilson will join Corporate Responsibility (CR) as the Managing Director and Head of North America for Regional Philanthropy. Alicia will oversee our local philanthropic strategies across 40+ markets in North America, collaborating intentionally with senior leaders across CR and the rest of the firm to drive meaningful impact across our business footprint in the U.S. and Canada. This includes helping to steward the $2 billion philanthropic commitment as part of the firm's broader Racial Equity Commitment.
Alicia, who will join the firm in January and be based in Washington, D.C., currently serves as Vice President for Economic Development and Community Partnerships at Johns Hopkins University and Johns Hopkins Health System. In this role, Alicia drove Johns Hopkins' strategy and initiatives as an anchor institution in Baltimore, elevating and expanding the organization's commitment to the city through investments in economic and neighborhood development, healthcare and education.
Alicia has dedicated her career to advancing economic inclusion and racial equity by shaping and influencing collective action at the local level. Prior to Johns Hopkins, Alicia served as the Senior Vice President of Impact Investments and Senior Legal Counsel for the Port Covington Development Team, where she was instrumental in securing financing for the $5.5 billion redevelopment project, and in measuring its social and environmental impact. Alicia also held a partnership position at the law firm of Gordon Feinblatt, serving as the firm's first African-American partner. In 2021, Alicia was named to the Black Enterprise 40 Under 40 list for her efforts to increase economic and social opportunity in Baltimore.
Under Alicia's leadership, we are confident that our Global Philanthropy team will continue to deliver highly relevant, tailored strategies to address persistent sources of inequity across the U.S. and Canada.
Help us Continue to tell OUR Story and join the AFRO family as a member –subscribers are now members!  Join here! 
The post BREAKING NEWS: Alicia Wilson to join JPMorgan Chase as the Managing Director and Head of North America for Regional Philanthropy appeared first on AFRO American Newspapers .
This article originally appeared in The Afro