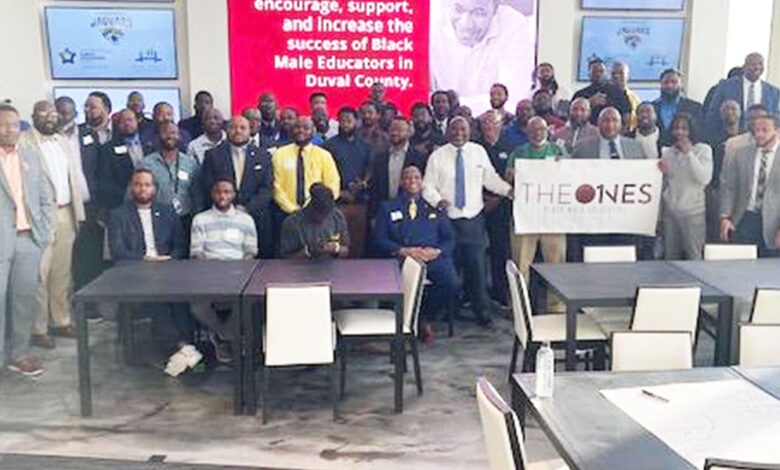 By Darryl Willie | Jacksonville Free Press
Black male educators make up only 6% of the teaching force in Duval County. These teachers often find themselves being the only ONE in their schools, the only ONE in their grade level or the only ONE in their department. The support and success of Black male educators is critical to the academic success of all students in all schools. Duval County Public Schools (DCPS) recently announced the formation of a support group called THE ONES. The collective  of educators was formed to encourage, support and increase the success of Black male educators in Duval.
Recently, this group hosted their inaugural event introducing the initiative to Black male educators across the county. The event was facilitated by School Board Chairman Darryl Willie.  Meeting up at TIAA Bank Field's Upper West Club, over 120 teachers and educators attended the event at the Jaguars Stadium.  Also in attendance to give remarks were Superintendent Dr. Diana Greene and Jacksonville Public Education Fund President Rachael Tutwiler-Fortune.
"This gathering was a powerful time of fellowship, food and music where black male educators were able to "see" each other and connect," said teacher Malcolm Pringle. There was a short program, followed by small group discussions about the different challenges, lessons and tips they uncovered during their time as educators. They also honored a handful of educators for their long tenured service. At the end of the event, the teachers were given the opportunity to stay involved with the group in both formal and informal ways moving forward.
To support the initiative, mentoring, professional development workshops, social activities and recruitment events email: School Board Chairman Darryl Willie  at WillieD@duvalschools.org.
This article first appeared in the Jacksonville Free Press.