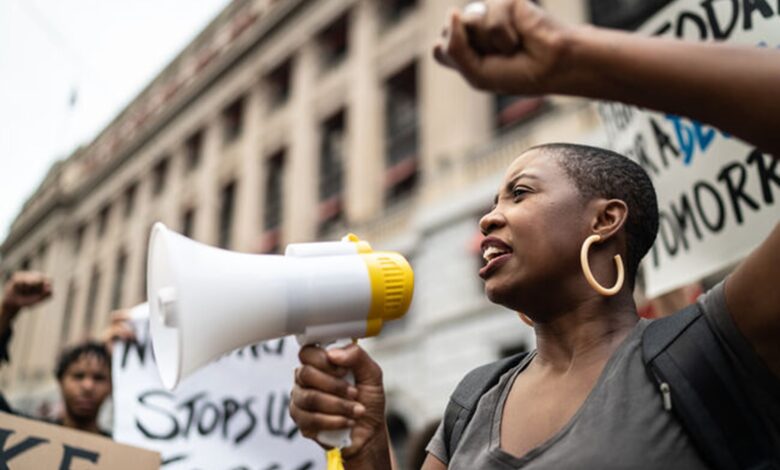 While impactful organizations like Black Lives Matter and the NAACP have become household name organizations, there are hundreds of other Black-focused groups fighting for equality, justice, mental health access, voting rights, criminal justice, history preservation, education, providing career opportunities, and more. Below are ten empowering organizations to support during Black History Month and beyond.
Keep scrolling to check them out!
View this post on Instagram
A post shared by Black Women For Wellness (@bw4wla)
This organization aims to address disparities in health services for Black women and girls in multiple ways. This includes bolstering affordable health care, providing health education, finding culturally-sensitive providers and counselors, aggregating research on Black women's health, and more. Black Women For Wellness also has a slew of informational media available on their website.
The Center for Black Equity focuses on leveling the playing field for Black LGBTQ+ people in three key areas: social, economic, and health. They host several pride events across the country, as well as provide resources on personal and economic growth, testing for malicious diseases, and more. They also host a leadership program meant to shape emerging leaders and advance their careers.
View this post on Instagram
Activists for this organization want to stop the horrible impacts of police violence and mass incarceration. To do so, they believe in dismantling core issues at the heart of these concerns, which includes greed, corruption, white supremacy, and bigotry. Grassroots Law Project constantly keeps people up-to-date on the latest injustices, how to support those affected, and calls to action.
View this post on Instagram
A post shared by Congressional Black Caucus (@congressionalblackcaucus)
Established in 1971, the Congressional Black Caucus has a long history of empowering Black and marginalized people in politics. The focus of missions encompasses many areas, including voter suppression, criminal justice reform, access to education, and more. Dozens of Black congressmen are involved with the CBC, including Rep. James E. Clyburn (D-SC), Rep. Hakeem Jeffries (D-NY), and Rep. Barbara Lee (D-CA).
View this post on Instagram
A post shared by Color Of Change (@colorofchange)
Color of Change is an up-and-coming organization when it comes to activism. Organizers pressure decision-makers in government and corporations to stop enabling actions that disenfranchise Black people. This includes demanding major retailers stop selling toxic products marketed to Black people, to fighting against police brutality tragedies when they happen. As their website states, "We design campaigns powerful enough to end practices that unfairly hold Black people back and champion solutions that move us all forward. Until justice is real."
View this post on Instagram
A post shared by The DuSable Black History Museum and Education Center (@dusablemuseum)
This Chicago museum has over 15,000 pieces meant to educate, preserve and disseminate the rich history of Black Americans. According to its website, it's known as the nation's oldest independent Black American museum. They're also affiliated with the Smithsonian, which has the National Museum of African American History and Culture under its banner.
View this post on Instagram
Considered one of the largest student-governed organizations in the country, the National Society of Black Engineers aims "to increase the number of culturally responsible black engineers who excel academically, succeed professionally, and positively impact the community." The society caters to both K-12 and college students while offering programs meant to inspire and empower future professionals.
View this post on Instagram
A post shared by Black Male Voter Project (@blackmalevoterproject)
The main objective of this organization is to get more Black men to the polls. The Black Male Voter Project operates in 17 states and deploys "innovative" campaigns to get this demographic voting more. They also aim to reverse the effects of historical disenfranchisement through tactical voter drives.
View this post on Instagram
A post shared by Black Girls CODE (@blackgirlscode)
Black Girls Code wants to get more girls and women of color into the tech field. Founded by electrical engineer Kimberly Bryant with her daughter in mind, this nonprofit teaches computer programming while also closing "the opportunity gap for Black women and girls." Their program areas include web design, game design, mobile and app design, and robotics.
View this post on Instagram
A post shared by Black Artists+Designers Guild (@badguild)
Creating an inclusive space for Black creatives is the goal of the Black Artists and Designers Guild. They also provide a network for artists and designers while cultivating leaders and opportunities. One of their initiatives is the Creative Visionary Grant, which provides $10,000 to three people "to be used towards research, production, or other elements of their project."
The Black Information Network is your source for Black News! Get the latest news 24/7 on The Black Information Network. Listen now on the iHeartRadio app or click HERE to tune in live.
The post Black-Focused Organizations To Support During Black History Month And Beyond appeared first on Atlanta Daily World.