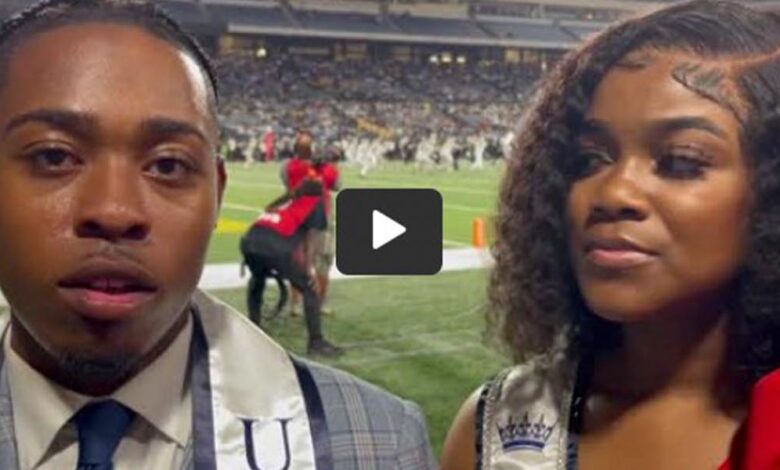 By Rashad Milligan | Rolling Out
A great deal of responsibility comes with representing one of the premier HBCUsin the country.
For Howard seniors Cecily Davis and Rashan Schoffner, the honor is never taken for granted, especially when they're back in their hometown of Atlanta. In-between waving to Howard fans, students and alumni at the 2022 Cricket MEAC/SWAC Challenge, Mister and Miss Howard spoke to rolling out about representing their school and coming back home.
Why are you here on the sidelines at tonight's game?
Rashan Schoffner: Fortunately enough, we're both from Atlanta, so it was definitely a full circle moment for us to bring our court home and also bring our Bison family back to where we came from.
Cecily Davis: We're ready to show our Bison pride at the first football game of the season. And we're lucky that is the MEAC/SWAC Classic.
How has it been to be at home?
RS: It's been awesome, great vibes. The band has been doing their thing, the dancers.
CD: We got a chance to see our families. Rashan's family came to support him, my family came to support us, and they all have on T-shirts. So it's really cute.
How do you handle the responsibility of representing Howard University?
RS: It's definitely a big responsibility, but with that territory comes responsibility. So we're up for it. We're ready to do the work that we've been doing. Yeah, we'll continue to do it.
CD: I think it's very important for us to be personable, Howard's motto is "in truth and in service." So that [means] remaining true to ourselves while also serving our community in everything we do.
What are you going to miss about Howard University?
RS: The people. Definitely the people. The camaraderie, the culture, it's just a great experience. Like you walk on the yard and you just feel at home.
What is your favorite memory from Howard?
RS: Probably winning Mr. Howard, that was a tight race. It was just such an exhilarating feeling. Again, just a fulfilling moment to hear my name in the cafeteria.
CD: My biggest moment at Howard was when I was granted $60,000 to produce the very first student-produced musical in Howard's history. So we're getting ready to put that show up in a month.
What's the name of the show?
CD: It's "Heathers The Musical." It opens Sept. 29 and closes Oct. 1.
What can people do to support Howard?
CD: We really need to boost the Howard morale, the Bison spirit. What we're really trying to bring back is that spirit of bleeding blue. We want people to come out to games, we want people to come out to the events, we want people to get out of their rooms and actually socialize with our community, tapping back into Howard.
RS: She pretty much said it all, but definitely push it forward into a new space where students not only love the space that they're in, but they enjoy the space they're in.
The post Mister and Miss Howard reflect on significance of representing their university appeared first on Rolling Out.