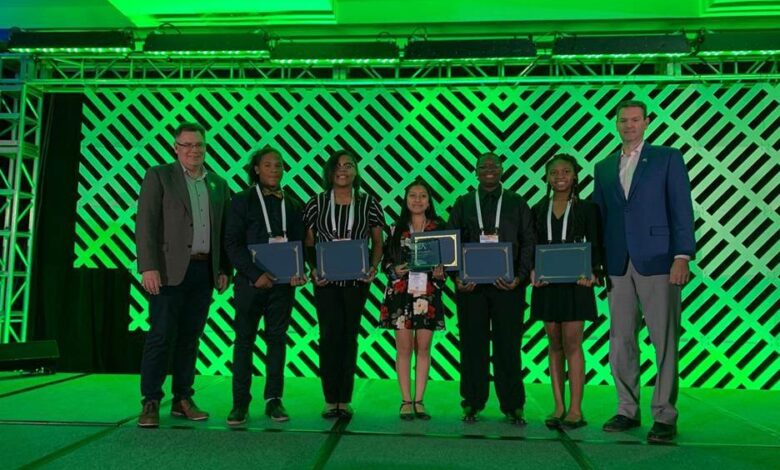 By Joanna Ali and Kia Allah
College- and career-readiness are often assessed by indicators such as test scores and grade point averages. But there are other ways to forecast and encourage student success, by centering students' value systems, cultural knowledge, ancestral history, and experiences. The iScholar youth program has demonstrated how educators and stakeholders can redefine the way they think about the future of their students by using a critical design process.
While educators often acknowledge that Black and Latino urban youth need high-quality, job- training opportunities in STEM, the pathways afforded to them don't always allow for transformative learning. iScholar, which started in 2016, is a school-university-community partnership between North Carolina State University and secondary schools in Durham, NC. Here, mentors work with a group of nine Black and Latino students, each of whom come from traditional urban schools, but with varying degrees of prior academic performance and motivation. Beyond rigorous STEM learning opportunities, the mentors encourage innovation and create an empowering space where the students could reimagine their future; where their culture, values and ethics are honored, valued, and represented within the field of STEM; and where racial disparities and underrepresentation are counteracted — unlike the Eurocentric values that typically dominate the field.
 Designing for Social Change
 For the SchoolsNEXT design competition, iScholar students were challenged to plan and design sustainable and resilient learning spaces that encouraged innovation, critical thinking, and collaboration. This was an iterative process that followed students over the span of two years as they attended international architecture conferences and engaged with STEM professionals for the purpose of personal and professional development.
Their designs received acclaim from professional architects for highlighting the value of arts integration, STEM disciplines, design aesthetics, equity, mentorship, community and collaboration. Both teams went to the international level of the competition, with the first team winning second place and the second team winning the first-place Award of Excellence. 
Creating Empowering Spaces to Dream & Imagine  
As former educators turned researchers in educational psychology and equity, we know that the first step in supporting students is creating an empowering space where students' cultures, values, and ideas are centered. To do that, we turned toAfrofuturism, which offers educators a powerful vision built on radical concepts of freedom by remembering ancestral knowledge from the past, reconstructing and critically analyzing the cultures of Black and Latino urban youth in the present, and imagining empowering futures for students and their communities. This focus helped create a space where scaffolding, communal learning, resistance and resilience transpired. When interviewed, students stated that the opportunity to dream and imagine gave them hope for their future as well as a creative outlet not offered during the traditional school day.
Honoring Students' Cultures, Values, and Ethics
To design an innovative school, students needed to know that innovation was already a part of their cultural repertoire. STEM is not typically explored from an Afrocentric or Indigenous perspective, although Eurocentric thought within STEM has grown out of the experiences and wisdom of African and Indigenous people. The iScholar team counteracted this narrative with designs inspired by ancestral knowledge. For example, students used African and Indigenous patterns,incorporated the science of beekeeping and its importance to ancient Egyptian cultures, as well as a sustainable method of hydroponic farming — which was invented by the Aztecs — called "Chinampas."
 Counteracting Racial Disparities With Critical Analysis  
We intentionally connected students not only to their past cultural knowledge but also to the present work being done in their communities. Instead of students using our interpretations of community needs, they were encouraged to assess the needs of their communities and develop ways in which their school designs could address those needs. By giving students the space to critically examine their communities and schools through interviews with community members, they amplified their own voices and those of their community. Through critical analysis, the iScholar team questioned the absence of Blackness and Latinidad within the curriculum and discussed how it led to the positioning of Whiteness as the standard for learning. It was because of this critical analysis that students were able to counteract traditional curricula and educational spaces that lack a connection to their lives.
Utilizing a design process — within which students can think critically, ideate, and iterate their ideas — is an important aspect of STEM learning for underserved youth. Our critical design process allows students to reimagine their career futures and to counter systemic barriers that marginalize Black and Latino urban youth. Students can dream and imagine while positioning themselves as creators who can critically analyze and read the world around them. The process consists of four phases:
Deconstruct

: Youth critically examined inequities by resisting traditional Eurocentric perspectives about what school is and how learning should take place. Students also worked to recover historical content and reconnect with knowledge of the past that has been stripped from their traditional curricula.
Dream

: Youth formulated ideas and concepts that would counter existing power structures and mainstream narratives of success for Black and Latino people.
Design

: Youth created, constructed, reshaped, and reclaimed positions within society by developing new self-narratives. For iScholar youth, this was achieved through architectural design and 3-D modeling, but it can also take the form of creative outlets such as storytelling and poetry.
Deliberate and Develop

: Black and Latino urban youth benefited from firsthand experiences with experts who nurtured their ambition but provided healthy critiques of their design. In so doing, these experts helped strengthen ideas in culturally sensitive and identity-affirming ways.
These nine award-winning youth and their experience serve as an example of how college- and career-readiness can be transformative when Black and Latino students bring their own value systems, cultural knowledge, ancestral history, and experience to STEM education. Ultimately, the hope of taking a race-conscious approach to college and career readiness is to create the next generation of Black and Latino youth who are critically conscious and have the tools to create the futures that they envision for themselves and their community.
Check out the students' award-winning designs here:
Joanna Ali is the director of curriculum and innovative instruction for the Black and Belonging Collaborative. She is a former middle school art, design & engineering teacher, a graduate research and teaching assistant with the iScholar team, and a Ph.D. candidate in educational psychology at North Carolina State University.
Kia Allah serves as director of youth equity programming with the Black and Belonging Collaborative, where she develops projects that empower urban youth to be critical change agents in their communities. She is a former Spanish teacher, a graduate research assistant with the iScholar team, and a Ph.D. candidate in educational equity at North Carolina State University.