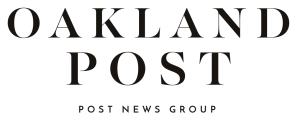 A group of nine young leaders from East Bay schools, organized and led by Regina Jackson of East Oakland Youth Development Center (EOYDC), will participate in the "March for Our Lives" demonstration for an end to gun violence Saturday in Washington, D.C.
Congresswoman Barbara Lee urged Jackson to organize the delegation so that Oakland would have a presence in the historic march.  Lee contributed money to pay for part of the trip, and a micro-grant covered the rest.
"Recently we did a listening session with Oakland Lee about gun violence. She asked me to coordinate the student delegation. I will be leading the group of students, who have all been affected by gun violence, ages 13-18," said Jackson.
Members of the EOYDC delegation: Damoni Nears, senior at Moreau Catholic High; Destiny Shabazz, senior at McClymonds High; Devlynn Nolan, senior at Castlemont High; Jada White, 8th grader at Edna Brewer Middle; Khali Walker, freshman at Castlemont High; Kia Hanson, senior at Fremont High; Nala Lazimba, 8th grader at Alliance Academy; Rasheem Haskins, sophomore at Skyline High; and Ramaj Walker, junior at Envision Academy.
Organizers of the Washington D.C. march are students from Stoneman Douglas High School in Parkland, Florida, where 17 students and adults died.
The young Oakland leaders spoke about how gun violence has impacted their lives.
"I have first-hand experience with gun violence," said Jada White, aged 13.
"I lost my father when I was just a baby. I am going to the march to share my experience and my hope for stronger gun education and policy."
Seventeen-year-old Kia Hanson said, "I lost my brother to gun violence. My pain is real every day. I am going to the march to represent him and my hope that no one ever have to experience a tragedy like mine ever again."
The young people plan to write a blog about the march after they return draft some language for bills to be considered at the state and federal level.
Over 800 rallies and marches are scheduled across the country Saturday in solidarity with the protest in Washington, D.C. In the Bay Areas, marches are planned for San Jose and San Francisco.
A rally will be held Saturday morning at 10 a.m. in front of City Hall in Oakland, and then attendees will go by BART to join forces with marchers in San Francisco.
The post Oakland Students Head to D.C. for  "March for Our Lives" Demonstration appeared first on Oakland Post.