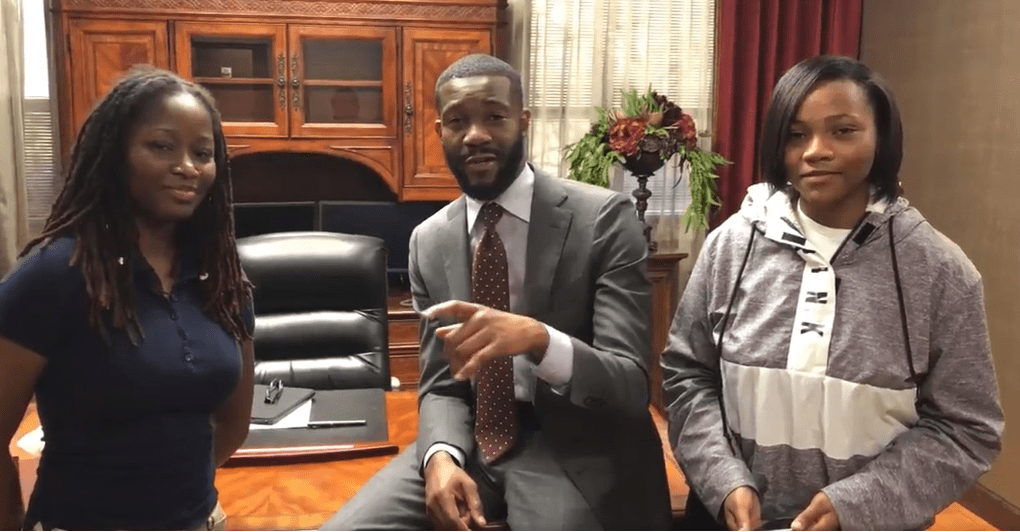 Times staff report
C-SPAN announced Wednesday that Ashleigh Richardson and Ta'Kaiya Cooper, students at Ramsay High School in Birmingham are second-prize winners in C-SPAN's national 2018 StudentCam competition. They will receive $1,500 for their documentary, "You Matter," about the 15th Amendment. Their video will air on C-SPAN at 5:50 a.m. CST and throughout the day on April 11.
"Congratulations to Ashleigh and Ta'Kaiya as second-prize winners in C-SPAN's national StudentCam documentary competition – it's a terrific recognition," said Adam Falk, Senior Vice President, State Government Affairs, Charter Communications. "This year, C-SPAN's StudentCam contest gave students the opportunity to learn more about and deeply appreciate the U.S. Constitution and its impact on our local community. We are proud to partner with them on this important initiative."
Each year since 2006, C-SPAN partners with its local cable television providers in communities nationwide to invite middle school students (grades 6-8) and high school students (grades 9-12) to produce short documentaries about a subject of national importance. This year students addressed the theme, "The Constitution & You: Choose a provision of the U.S. Constitution and create a video illustrating why it's important to you."
In response, C-SPAN received a record 2,985 video submissions from over 5,700 students in 46 states and Washington, D.C. Students worked in teams or as individuals to address a wide range of public policy issues, from the freedoms of the First Amendment and the right to bear arms, to equality and the powers of Congress.
"With so much national debate about government power and personal freedoms, we were eager to hear students' perspectives on what the Constitution means to them," said C-SPAN's Manager of Education Relations Craig McAndrew. "Students across the country engaged in conversation on the local level with elected officials, experts, community leaders and educators to explore how national issues impact their daily lives."
The most popular provisions of the Constitution explored by students were the First Amendment (26 percent), followed by the Second Amendment (16 percent) and the 14th Amendment (11 percent).
C-SPAN is funded by America's cable television companies, which support StudentCam. In Birmingham, C-SPAN is available locally through Spectrum.
Ashleigh and Ta'Kaiya are among more than 300 students across the country winning a total of $100,000, including one grand-prize winner, four first-prize winners, 16 second-prize winners, 32 third-prize winners and 97 honorable mentions.
The 150 winning videos may be viewed at http://www.studentcam.org/and may be used in a broadcast with attribution to C-SPAN. To schedule an interview with one or more of the winning students, please contact Pam McGorry at pmcgorry@c-span.org.
The annual competition is sponsored by the C-SPAN Education Foundation. Videos were evaluated by a panel of educators and C-SPAN representatives based on the thoughtful examination of the competition's theme, quality of expression, inclusion of varying sides of the documentary's topic, and effective incorporation of C-SPAN programming.