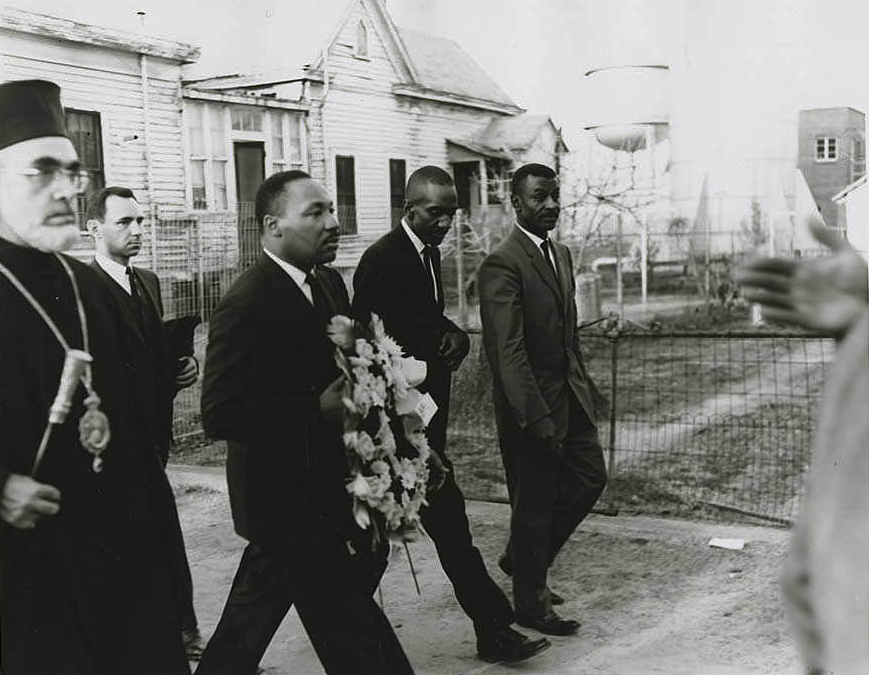 THE LEGACY NEWSPAPER — On 
the evening of April 4, 1968
, teen music sensation Stevie Wonder was dozing off in the back of a car on his way home to Detroit from the Michigan School for the Blind, when the news crackled over the radio: Martin Luther King Jr. had just been assassinated in Memphis. His driver quickly turned off the radio and they drove on in silence and shock, tears streaming down Wonder's face.
Five days later, Wonder flew to Atlanta for the slain civil rights hero's funeral, as riots erupted in several cities, the country still reeling. He joined Harry Belafonte, Aretha Franklin, Mahalia Jackson, Eartha Kitt, Diana Ross and a long list of politicians and pastors who mourned King, prayed for a nation in which all men are created equal and vowed to continue the fight for freedom.
Wonder was still in shock—he remembered how, when he was five, he first heard about King as he listened to coverage of the Montgomery bus boycott on the radio. "I asked, 'Why don't they like colored people? What's the difference?' I still can't see the difference." As a young teenager, when Wonder was performing with the Motown Revue in Alabama, he experienced first-hand the evils of segregation—he remembers someone shooting at their tour bus, just missing the gas tank. When he was 15, Wonder finally met King, shaking his hand at a freedom rally in Chicago.
At the funeral, Wonder was joined by his local representative, young African-American Congressman John Conyers, who had just introduced a bill to honor King's legacy by making his birthday a national holiday. Thus began an epic crusade, led by Wonder and some of the biggest names in music—from Bob Marley to Michael Jackson—to create Martin Luther King Day.
To overcome the resistance of conservative politicians, including President Reagan and many of his fellow citizens, Wonder put his career on hold, led rallies from coast to coast and galvanized millions of Americans with his passion and integrity.
But it took 15 years.
In the immediate wake of King's death, the political establishment was more concerned with keeping things calm, tamping down unrest, and arresting rioters and activists. It was a violent year—that summer the Democratic convention in Chicago exploded in chaos and another inspiring leader, Robert F. Kennedy, was killed by an assassin. The country seemed on the verge of civil war.
Conyers' bill languished in Congress for over a decade, through years of anti-war protests, Watergate and political corruption, stifled by inertia and malaise at the end of the 1970s. The dream was kept alive by labor unions, who viewed King as a working-class hero, with protests that slowly built up steam. At a General Motors plant in New York, a small group of auto workers refused to work on King's birthday in 1969, and thousands of hospital workers in New York City went on strike until managers agreed to a paid holiday on the birthday. King's widow, Coretta Scott King, led a birthday rally that year in Atlanta, where she was joined by Conyers and union leaders. By 1973, some of the country's largest unions, including the AFSCME and the United Autoworkers, made the paid holiday a regular demand in their contract negotiations.
Finally in 1979, President Jimmy Carter, who had been elected with the support of the unions, endorsed the bill to create the holiday. Carter made an emotional appearance at King's old church, Ebenezer Baptist Church in Atlanta. But Congress refused to budge, led by conservative Senator Jesse Helms of North Carolina, who denounced King as a lawbreaker who had been manipulated by Communists. The situation looked bleak.
By then, Wonder had matured from a young harmonica-playing sensation to a chart-topping music genius lauded for his complex rhythms and socially-conscious lyrics about racism, black liberation, love and unity. He had kept in touch with Coretta Scott King, regularly performing at rallies to push for the holiday. He told a cheering crowd in Atlanta in the summer of 1979, "If we cannot celebrate a man who died for love, then how can we say we believe in it? It is up to me and you."