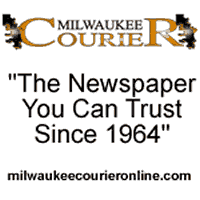 By Nyesha Stone
Milwaukee Public Schools has begun to pave a way to a better future for young men and boys of color. The Department of Black and Latino Male Achievement (BLMA) was established to address the disparities in academic and life outcomes for young men and boys of color, and to implement programs that improve their lives, according to a press release.
MPS has high hopes that this new department, that officially launched this school year, will be a success.
BLMA is ran by five men who are dedicated to changing the lives of young men and boys. Juan Baez and Lanelle Ramey are directors of BLMA, Paul Moga is the coordinator, David Castillo is the planning assistant and the newest member is Sergio Muniz who will be working closely with the children— each of these men will report directly to Superintendent Darienne Driver.
The department brought out 50 male students of color to Casimir Pulaski High School on Oct. 2 to let the students know this department is an advocate for them, said Ramey.
Ramey along with other members of the department are products of MPS, and he's happy to be helping young men who were just like him have a better chance at life.
"We do this from our heart," said Ramey. "I am a product from it (MPS) all the way."
Ramey began his days with MPS in grade school, and now many years later he's still in the system, but now with more power to help change things.
Men and boys of color is the focus of this department because the data shows they've fallen behind everyone else. Now the department has made it their duty to help these students reach their full potential.
"Change is coming for our boys of color," said Ramey. "They're important to us."
BLMA is in the process of their 100-day plan, which is trying to define what exact activities and curriculum the department will provide not only for the boys of color, but MPS as a whole.
The National Campaign for Black Male Achievement (CBMA) has partnered with BLMA and will be supporting the department through its endeavors.
Ramey and Baez hope to change the media's image of these young boys and men, and to also show these students how to embrace themselves.
Baez knows by helping these young men and boys it will positively affect the rest of MPS, and other students.
"We're going to need to need the community's support with this," said Baez. "It's really going to take a family."