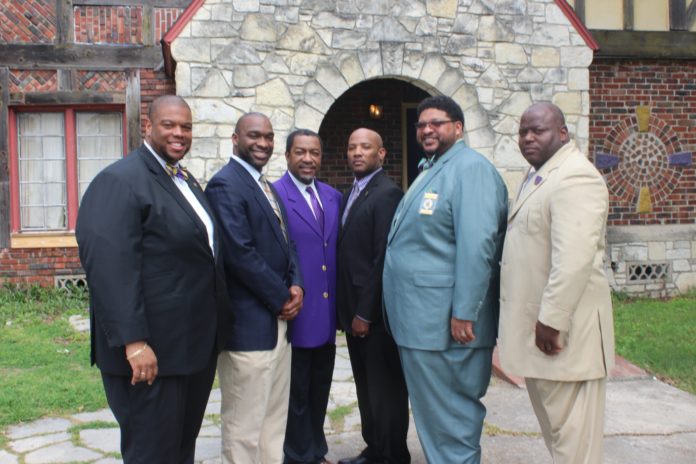 By ReShonda Billingsley
When Hurricane Harvey rolled through Houston causing massive destruction, the men of Omega Psi Phi Fraternity stepped up to the plate to help the community rebuild.
"We're unique men who feel the need to help others. Our constant goal is to make sure mankind is doing better," said Jeffery Williams, who serves as the Life Membership Board Regional Director for the Ninth District (Omega chapters in Texas, Louisiana and Arkansas).
Williams also leads the Houston coalition of area Omegas, which is hosting their regional convention in Houston on March 21-25. (More than 3,000 members are expected to attend the conference). The Coalition began as a way to work together on programs and activities mandated by the fraternity and consists of seven graduate chapters (Nu Phi-Houston, Theta Chi-Prairie View, Rho Beta Beta-Houston, and Rho Xi-Freeport, Rho Nu – Galveston, Alpha Mu Mu – College Station, and Mu Mu Nu – Conroe, TX) and five undergraduate chapters: Tau Epsilon (Texas Southern University), Omega Theta (University of Houston), Rho Theta (Prairie View A&M University), Eta Mu (Sam Houston State University) and Nu Delta Delta (Texas A&M University). Rho Nu (Galveston) joined the coalition to comprise 10 chapters.
While many people know the "Ques" as they're called for their ability to throw off-the-chain parties and step, Williams said service is really at the core of everything they do.
"There is a lot more to it than that," Williams said. "It's about service. It's all about helping men become better men."
"Yes, we have a good time, but what we do goes so much more deeper than that," added Marvin Alexander Jr., Southwest Texas State Representative. "We have a Thanksgiving Meal on Wheels, Achievement Week, where we work with high school students, the Charles R. Drew Blood Drive, Real Men Read, where we partner with local schools to read to students, and that's just a few of the things we do."
For Antonio Brown, a 15-year member of the fraternity and basileus (president) of the Rho Beta Beta Chapter, joining Omega simply meant that he could continue the foundation his parents had laid.
"The principles we stand for are right in line with everything I believe in," Brown said. "The good things we do for our community is right in line with how I was raised. Our organization promotes 'manhood, scholarship, perseverance and uplift.' That's what we're all about."
Brown said the organization is committed to future generations and a leaving legacy that uplifts the Black community.
"This is important. We understand the village mentality," Brown said. "If we know that we're responsible for each person next to us, we tend to do better. We tend to make sure we're doing the right thing in that person's presence. And not just when we're there but even when they're not."
Omega Signature Events
Go Western Scholarship Dance
The dance, established in 1961, was generally held on the third Saturday of February. This Go-Western gala hosted by Nu Phi has been considered the oldest, longest-standing, Black Go-Western in the Greater Houston area.  The proceeds generated from this affair are used to provide scholarships and to support the numerous community programs that the Chapter conducts and sponsors.
Annual Boat Ride
Boat Rides have been a part of Omega's history for a long time. The first Houston-area Omega Boat Ride took place in 1987, "Moonlight Cruise with the Ques." Nu Phi and Theta Chi jointly sponsor a Memorial Day cruise, which leaves from Galveston, where patrons loaded up at the San Jacinto Battleground to enjoy a five hour cruise and dinner. Rho Beta Beta sponsors a Labor Day event.
Achievement Week
Achievement Week is observed each November and is designed to recognize those individuals at the local and international levels who have contributed to community uplift. A High School Essay Contest is held in conjunction with Achievement Week.
*Not a comprehensive list
Fraternity history
Omega Psi Phi was organized Friday on Nov. 17, 1911 in the office of Ernest  Everett Just, a professor of biology at Howard University in Washington, D.C. The organizers were three juniors in the College of Liberal Arts: Edgar Amos Love, Oscar James Cooper, and Frank Coleman. They envisioned a creative idealistic national organization that would unite thousands or young men in aim, thought and loyalty.
They selected the name of the organization, Omega Psi Phi, represented by three Greek letters which mean, "Friendship is Essential to the Soul." The meaning of the letters was adopted as the fraternity 's motto. "Manhood, Scholarship, Perseverance and Uplift" were adopted as the fraternity's cardinal principles
The post Omega Psi Phi Fraternity Continues legacy of leadership appeared first on DefenderNetwork.com.