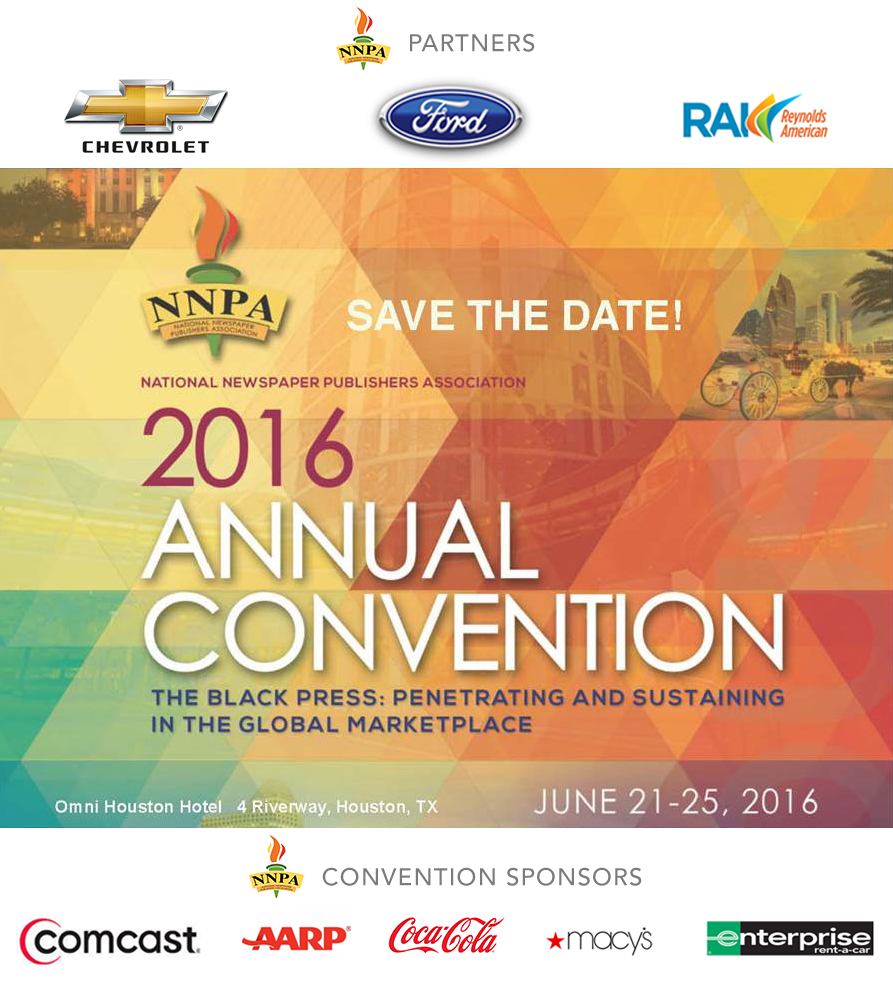 SAVE THE DATE! — 2016 NNPA ANNUAL CONVENTION
JUNE 21-25, 2016
Omni Houston Hotel, 4 Riverway
Houston, TX
The deadline date for receiving NNPA discounted room rates extended to May 25, 2016.
For more details, contact Claudette Perry at cperry@nnpa.org.
The National Newspaper Publishers Association (NNPA) is looking forward to seeing you at the 2016 Annual Convention in Houston, June 21-25, highlighting:
The Prayer Breakfast (with gospel singer Kathy Taylor and honoree Ambassador Bobby Jones)
The huge Houston Welcome Reception at the Buffalo Soldiers Museum (entertainment by Zydeco Artist, Keith Frank and other surprises)
The informative morning and afternoon training sessions "Using Technology to Improve Your Business" (back by popular demand from mid-winter conference)
A discussion on "Decriminalizing the Black Community" (panelists Former Congressman Kendrick Meek, Chief John I. Dixon, Major Neil Franklin and Art Way)
Fabulous exhibits, luncheon sessions, the Merit Awards Dinner, the Legacy Awards Black Tie Gala, and Special Guests.
More updates to come, but without delay, register for the convention today and book your hotel room.
After all of that, how about a pool party at this beautiful poolside?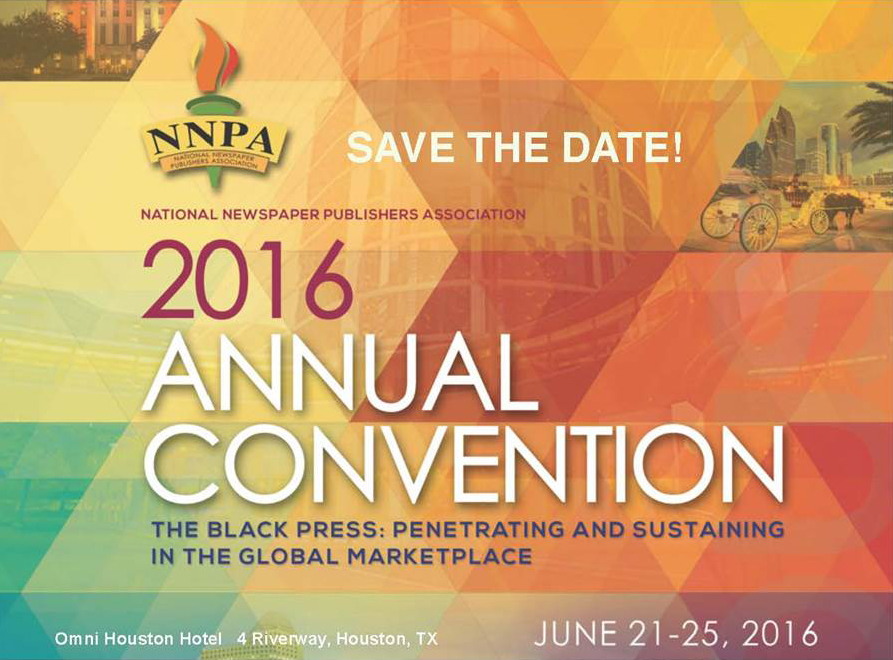 Make your hotel reservations today while the NNPA group rate of $159 is still available. Deadline for receiving this rate is May 15th!
Event Details
CONFERENCE REGISTRATION FEES INCLUDE COST OF MEAL FUNCTIONS.  ADDITIONAL MEAL TICKETS CAN BE PURCHASED.  REGISTRATION FEE INCREASES JUNE 11-25.George W. Bush Intercontinental Airport (27 miles to hotel) or William P. Hobby Airport (17 miles)
The Omni Hotel is located at 4 Riverway, Houston, TX.  Hotel does not have an airport shuttle service.
SEE DRAFT SCHEDULE BELOW. MORE DETAILS WILL BE PROVIDED SOON!
---
Schedule:
Tuesday, June 21
10:00am – 3:00pm
Journalism Careers Workshops: Technology and Entreprenurship
Opportunities, Texas Southern University -3011 Cleburne, Houston, TX
Bus Transport
Wednesday, June 22
11:30pm – 12:30pm
Joint Board Luncheon
12:45pm – 2:00pm
Foundation Board Meeting
2:30pm – 5:30pm
Association Board Meeting
7:00pm – 10:00pm
Chairman's Welcome Reception
Buffalo Soldiers Museum – 3816 Caroline Street, Houston, TX
Bus Transport from Hotel to Event and Return
Thursday, June 23
8:30am – 10:30am
Prayer Breakfast: Proclaiming the Good News
HONOREE Dr. Bobby Jones; Performance By Kathy Taylor
10:45am – 12:00pm
Morning Training Session
12:15pm – 1:45pm
Luncheon Session – Hosted by Ford Motor Company
2:00pm – 3:30pm
Afternoon Training Session
6:00pm – 9:30pm
Cocktails – NNPA Foundation Merit Awards Dinner
Friday, June 24
8:30am – 9:45am
Breakfast Session – Health Focus
10:00am – 12:00pm
Panel Discussion, Criminal Justice Reform – Hosted by RAI Services Company
12:15pm – 1:45pm
Luncheon Session
2:00pm – 3:30pm
Regional Elections
3:30pm – 5:00pm
Publishers General Meeting
6:00pm – 9:30pm
Cocktails – Legacy Awards Gala Dinner – Black Tie
Saturday, June 25
9:00am – 10:30am
Breakfast Session
10:30am – 2:00pm
Pool Party at the Omni Hotel
2:00pm
2016 Annual Convention Adjourns