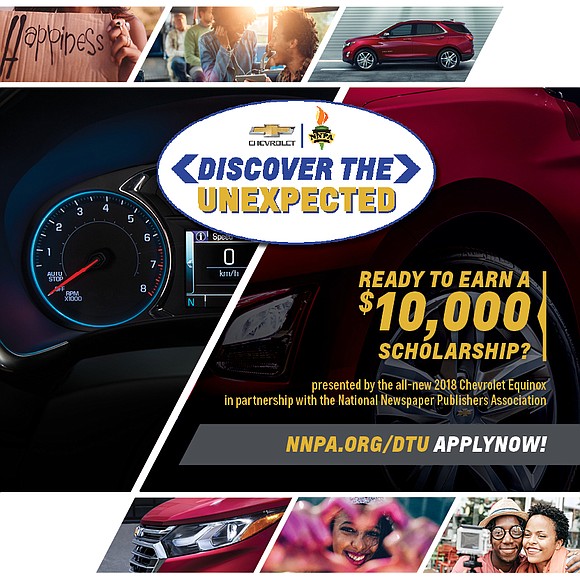 The deadline for HBCU students to submit an application for the 2018 Discover The Unexpected Journalism Fellowship, or DTU, is April 30.
The DTU Journalism Fellowship includes:
8-week multi-city journalism fellowship working with National Newspaper Publishers Association (NNPA) newspapers in Atlanta, New York City, Washington D.C. and Norfolk.
$10,000 scholarship and a $5,000 stipend for living expenses provided by Chevrolet
access to an all-new 2018 Chevrolet Equinox for a road trip of a lifetime!
This is the first year DTU is open to all HBCUs. DTU was launched at Howard University in 2016. Last year, the program expanded to include Clark Atlanta University,  Morehouse  College  and Spellman College.
The DTU Fellowship is looking for HBCU studentswho are multi-media savvy and have a passion for storytelling.
DTU Fellows will be assigned to write stories that spotlight positive and powerful people and events. The Fellows will be responsible for all aspects of storytelling: writing, videography, photography, research, on-camera reporting and social media posting.
The Fellows will be placed in two 3-person teams. Over the course of the internship, each team's road trip will take them to two different cities where they will spend four-week intervals working alongside experienced staff at NNPA member newspapers.
The participating NNPA newspapers are: The Washington Informer, The Atlanta Voice, The New Journal & Guide in Norfolk, and The New York Amsterdam News.
Any student who is at least 18 years of age, attending an HBCU in their sophomore, junior or senior year and majoring in journalism or mass communication is encouraged to apply.
Students are required to submit:
Resume with GPA
Video submission
Technology/social media profile
Writing sample
The completed applications and video submissions will be screened and evaluated to select six DTU Fellows based on application scores.
Students can apply for DTU 2018 through April 30th on the program's website, www.nnpa.org/dtu
CONTACT:
Sonya Lewis
Sonya.Lewis@carolhwilliams.com
708.439.0326 (mobile)